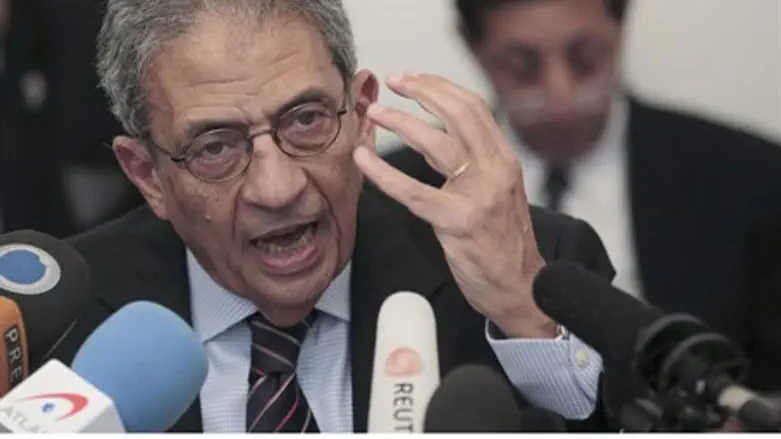 Amr Moussa
Reuters
Egypt's former foreign minister said on Wednesday that Hamas must recognize the existence of Israel in order to make it possible to move forward with a Palestinian state, AFP reported.
"It is normal for the Palestinians to reconcile," said Amr Moussa, referring to the unity deal struck between Hamas and its longtime rival Fatah, headed by Palestinian Authority (PA) Chairman Mahmoud Abbas.
However, he added, "I believe that Hamas should declare its acceptance of the Arab initiative of 2002, which is the map of normalization and recognition of the state of Israel together with the establishing of the Palestinian state and the withdrawal of the occupied territory."
"If Hamas does do this, it would be a major step in the direction of formulating a favorable all-Palestinian policy towards the Palestinian-Israeli conflict," Moussa said, according to AFP, referring to the Arab Peace Initiative of 2002, which demands that Israel withdraw completely from Judea and Samaria, at which point the 22 Arab countries would supposedly normalize relations with Israel.
Under the terms of the Hamas-Fatah unity deal, signed on April 23, the two sides would work together to form an "independent government" of technocrats, to be headed by Abbas, that would pave the way for long-delayed elections.
The deal aims to end a longtime rivalry which started back in 2007, when Hamas took control of Gaza in a bloody coup and started cracking down on Fatah officials living in the territory.
The unity deal angered Israel, which in response suspended its participation in peace talks with the PA, saying it cannot be expected to negotiate with a government which includes members of a party dedicated to its destruction.
Egypt, which was once close to Hamas, has grown increasingly hostile to the group after the Egyptian military ousted Islamist president Mohammed Morsi. Hamas is an offshoot of Morsi's Muslim Brotherhood.
Last month, an Egyptian court outlawed Hamas, much like it banned the Muslim Brotherhood earlier this year, and ordered all of its assets seized.
Moussa, who was Egypt's top diplomat from 1991 to 2001 before becoming secretary general of the Arab League until 2011, is close to former military chief Abdel Fattah al-Sissi, who is tipped to win next month's elections in Egypt.
Earlier this week, Hamas's deputy leader Moussa Abu Marzouk ruled out the possibility that Hamas will recognize Israel and declared that the group "will not recognize the Zionist entity."