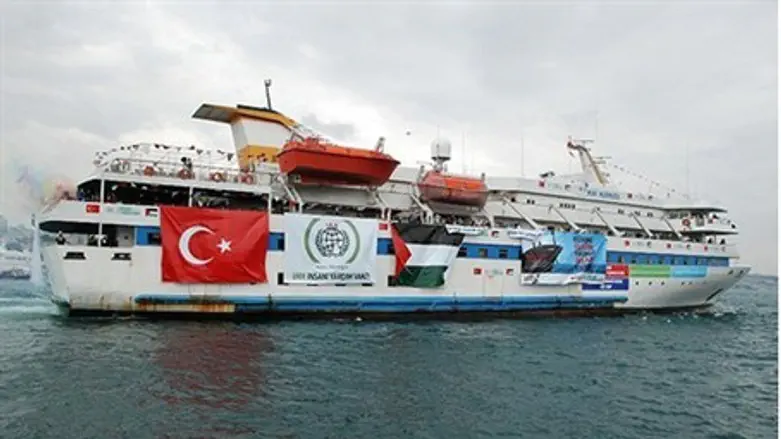 Mavi Marmara
AFP photo
A Turkish newspaper has released details of a high-level meeting of the country's military leaders, in which the Turkish government had considered sending warships into Israel as a military escort for the Mavi Marmara flotilla - and the possibility of triggering a war with the Jewish state as a result.
On May 31 2010, nine Turkish Islamists were killed on the flotilla after violently attacking IDF soldiers, during an attempt to break Israel's naval blockade on the terrorist group Hamas-enclave Gaza. The incident worsened a growing diplomatic crisis between Turkey and Israel, who had once been close allies.
Statements to the Turkish press made by Retired Admiral of the Turkish Fleet, Nusret Guner, show how far the Erdogan government was prepared to go in supporting anti-Israel groups. The Islamist organization behind the flotilla - the Humanitarian Relief Foundation (IHH) has since been raided over ties to Al Qaeda, and is suspected of sending weapons to Al Qaeda-linked groups in Syria.
Hours before the Mavi Marmara flotilla raid, on May 30 2010, the Turkish Navy Base in Iskenderun was attacked by Kurdish militants using rocket launchers. Six Turkish soldiers were killed and seven were wounded.
Prime Minister Erdogan, Chief of Staff Ilker Basbug and Turkish Navy's Commander Ugur Yigit were all abroad for official visits.
According to Turkish paper Haberturk, at 7.30 a.m. an emergency meeting was held with the participation of Deputy Prime Minister Bulent Arinc, Interior Minister Besir Atalay, several army generals and navy chief Admiral Nusret Guner.
"State of conflict with Israel was imminent"
At the meeting, the idea of sending warships to escort the Mavi Marmara had come into question.
The government asked the Navy if they were ready to do this. Admiral Guner confirmed that it was ready to send warships to escort the anti-Israel flotilla, but stated that this would likely trigger a hot war with Israel and added that "In that case, (since a) state of conflict with Israel is imminent, the Navy should have the authorization to enforce rules of engagement."
"Let's not and say we did"
But after mulling the possibility of an armed conflict with Israel, the government abandoned the idea of escorting the Mavi Marmara with warships.
Instead, ministers proposed the idea of telling the media that the Turkish navy was escorting the vessel, even though it was not.
Admirals and generals strongly opposed the idea of staging a "fake show".
Ministers decided to wait for Prime Minister Erdogan to return to Turkey; hours later, the Gaza Flotilla raid took place.
Another emergency meeting was held this time with Prime Minister Erdogan to discuss the government's reaction. It is not known whether or not the option of military force was considered at that later meeting.