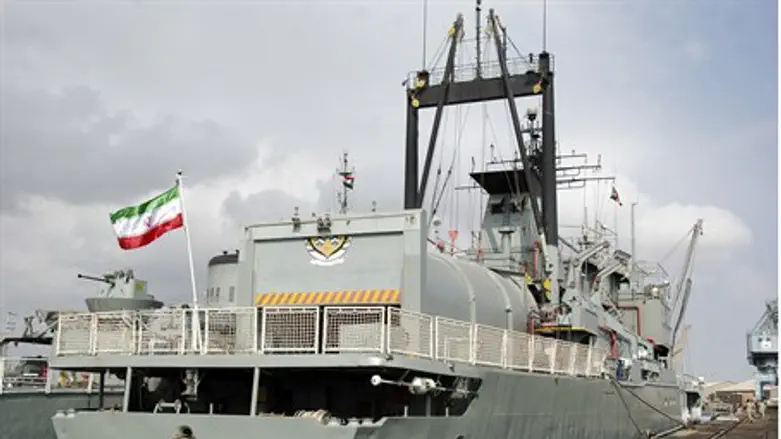 Iranian navy warships (archive)
Reuters
The commander of the Iranian Navy stated on Tuesday that his forces were trained to destroy U.S. warships.
Speaking to the Fars news agency, the commander, Rear Admiral Ali Fadavi, threatened the Navy can sink an American aircraft carrier "in less than a minute."
Fadavi added that U.S. air combat power overseas is totally dependent on the fighter jets flying from its aircraft carriers, and this has made these vessels a natural and high value target for the Iranian Navy in any possible war.
The Admiral said his forces have, thus, been conducting routine drills on how to sink U.S. vessels in any potential combat, especially in the Persian Gulf, adding that they have gained good knowledge of the "design, construction and structure of the U.S. warships."
"They (Americans) know nothing. We have been making and sinking replicas of U.S. destroyers, frigates and warships for long years, and we have sunk the replica of their vessels in 50 seconds through a series of operational measures," claimed Fadavi.
"We practice the same drills on replica aircraft carriers because sinking and destroying U.S. warships has, is and will be on our agenda," he told Fars.
Fadavi, whose forces are in charge of security in the Persian Gulf and the Strait of Hormuz, said that when American vessels intend to ferry across the waterway, they are contacted by the Navy troops who ask for the vessels' identity, purpose, and trafficking plan, and added, "If the U.S. warships decline to respond, they will come to realize right-away that a large number of our vessels have surrounded them and/or our missiles are locked on them."
"This, of course, does not happen generally," he explained, adding that his forces are in full control over the Strait of Hormuz.
The comments are not the first time that Iran has threatened the United States. In February, the official site of the Iranian Revolutionary Guards warned the U.S. that its warships in the Persian Gulf were in range of their Karrar combat drones, as well as their Kowsar anti-ship missiles, both domestically produced.
Karrar drones sport a flight range of 1,000 kilometers (621 miles) and a maximum speed of 900 kilometers per hour (559 mph). They are equipped with 125 to 250 kilogram (275-551 pound) bombs, and can additionally carry a Kowsar-class torpedo for combat against seagoing vessels. The drones are reportedly suitable for attacks deep in enemy territory.
Iran has been steadily boosting its military capabilities, even as the U.S. has lifted sanctions as part of the interim nuclear deal reached with Iran in November.
In December, Iran bragged of its new Qader cruise missile sporting a 200 kilometer (124 mile) range, as well as a new radar system for electronic warfare. In November, the Islamic regime released a new Fotros drone boasting a range of 2,000 kilometers (1,243 miles), making it able.
Recently, an Iranian cleric advocated violence when he suggested that the Iranian president should "punch the American president in the mouth" if he "talks nonsense."