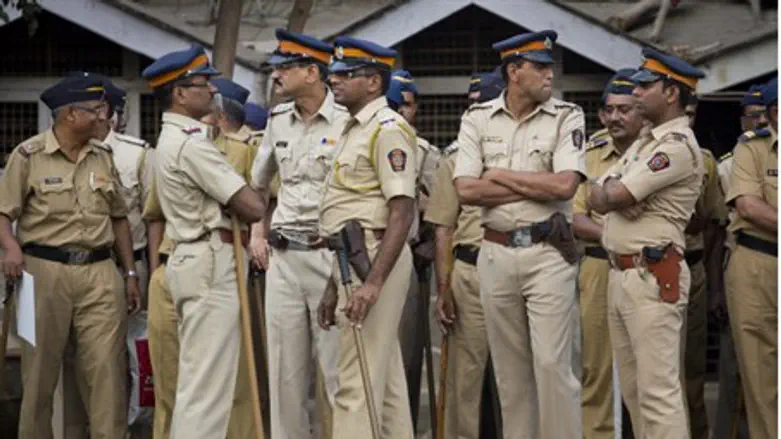 Indian policemen (file)
Flash 90
Indian security agencies say a suspect has revealed in interrogation that Pakistan was behind planned terror attack on Israeli and American consulates in India.
Official sources on Sunday revealed that Sakir Hussain of Sri Lanka admitted in interrogation that he was hired by an official in Pakistan's high commission in Colombo, Sri Lanka, to collect information on the US consulate in Chennai and the Israeli consulate in Bengaluru, reports Times of India.
The Indian officials say that Pakistan's Inter-Services Intelligence (ISI) secret service had used the man to plan terror attacks on the two sites.
Hussain was arrested in Chennai last Tuesday in a coordinated international operation. Prior to the current plot on the embassies, Hussain engaged in human trafficking, forging passports, and smuggling fake Indian currency. 
The arrested man reportedly revealed to interrogators that Pakistan's ISI was planning to send two operatives from the Maldvies to Chennai as part of the attack, and that he had been tasked with arranging their travel documents and hideouts.
Hussain named Amir Zubair Siddiq, a counselor at Pakistan's high commission in Colombo, Sri Lanka, as his handler in planning the operation. 
Reconnaissance on the consulates
Indian investigators found in Hussain's possession pictures of the Israeli and American consulates, showing various gates and roads leading to the entrances of the sites. Hussain admitted sending the pictures to Siddiq along with handlers in Pakistan.
A further search by India's intelligence service revealed the pictures had been downloaded by a computer in Pakistan's high commission at Colombo; sources note the information has been passed to Sri Lanka.
Along with the photographs, a sketch detailing the roads to the consulates were similarly sent by e-mail in PDF format.
Pakistan's high commission in Sri Lanka denied the charges of ISI's involvement in planning terror attacks.
This would not be the first time that terror attacks originating in Pakistan have struck India, and particularly Jewish sites in India.
In the infamous Mumbai massacre, which occurred in 2008, Pakistani terrorists murdered 166 people in a three-day assault, including six Jews at the local Chabad house.
Jews in Mumbai were on alert again last September, after the head of the Indian Mujahideen terrorist group admitted while under arrest that his organization was planning an attack on Jews and Israelis in the country. The investigation reportedly revealed that the terror leader had similarly been in touch with Pakistan's ISI.