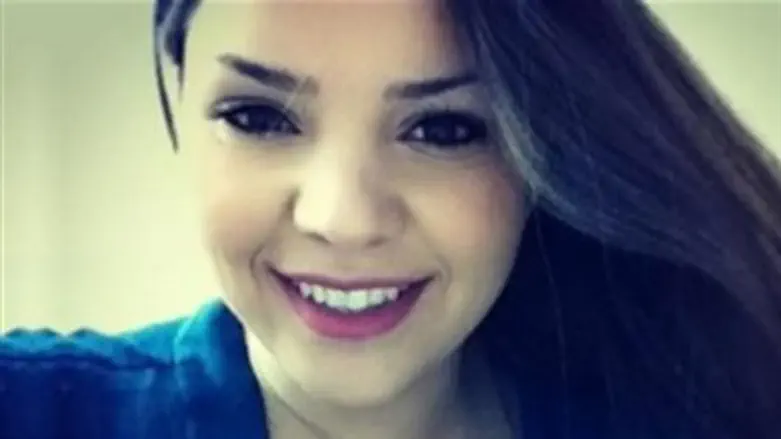 Shelly Dadon
Courtesy of the Dadon Family
The family of 20 year-old Shelly Dadon, whose body was found yesterday in the woods near Migdal Haemek, is finding it difficult to deal with the terrible news. 
"It takes time until this sinks in [. . .] she was a lovely girl who contributed to the State of Israel," a relative said Friday, "We're in pain, crying all the time, we are all afraid. Our home is destroyed."
"She was a blossoming young lady," another family member stated. "This was her first time leaving the house alone." 
Shelly's family and friends, who are currently mourning in the Dadon family home in Afula, said she was a sweet girl who loved her family, friends, and home. She insisted on serving in the IDF in spite of suffering from a difficult medical condition. 
"She was a lovely girl who just wanted to find a job," her family said. 
Dadon will be buried on Saturday night at 10:30 p.m., at the Afula cemetery. 
Police found Dadon's body in an abandoned Migdal Haemek parking lot Thursday night. The Shin Bet is still hunting for the killer, who apparently fled into the woods; police have stated their belief that the murder was nationalistically motivated - a terror attack, not a criminal act. 
Dadon had no criminal record; she had been on her way to a job interview but did not make contact with her family for several hours. When they found out that she had never shown up for the interview, they contacted police. Her body was found a short time later by patrolmen.
Slow response?
Dadon suspected that someone was stalking her on the night of the murder, family members said. One of her cousins told Walla! News Friday that the twenty year-old had called her from the Migdal Haemek parking lot, fearing for her safety. 
"There is someone suspicious here," Shelly stated, the cousin said. Shelly appeared to be referring to a woman [extrapolated from Hebrew grammar - ed.]. 
Alon, another of Shelly Dadon's cousins, lamented the state's slow call to action over the murder on Friday. 
"I want every MK to know what is going on here," he said. "If this had been a 'price tag' graffiti incident, the whole State would have been up in arms. But when a young girl is murdered on her way to a job interview, they are all silent." 
"We demand that they bring [the killer] to justice," he added. 
One politician, MK Aliza Lavie (Yesh Atid), called the murder "a despicable crime" on Thursday night, and called on the State to act. 
"It is unthinkable that a 20-year-old young woman will leave her home and not come back. Shelly Dadon's murder is very serious," said Lavie.
"If indeed, as police believe, this is a nationalistically motivated murder, it is a despicable crime and we must not remain silent. The security forces must immediately find the perpetrator and bring him to trial."
Despite the condemnation, the political leadership has remained relatively quiet over the crime, family has complained. 
By contrast, Prime Minister Binyamin Netanyahu and others were swift to condemn an alleged act of "price tag" vandalism earlier this week, especially in light of a damning report from the US State Department over the "Jewish terrorism." 
Netanyahu called the latest attack "outrageous," vowing, "we are using ISA (Shin Bet) resources for this purpose."