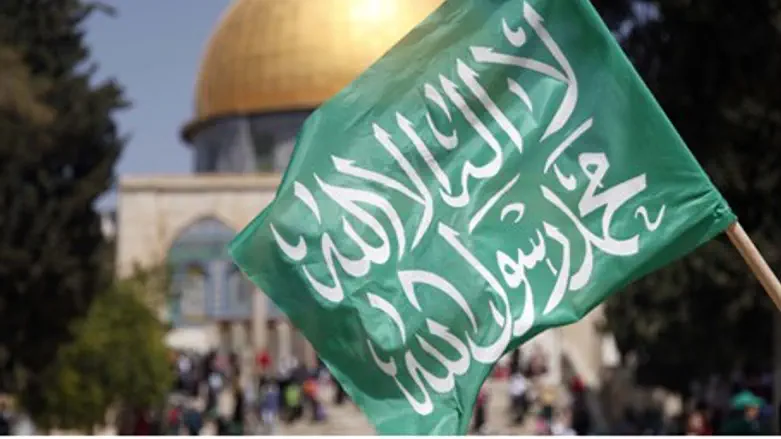 Hamas flag in Jerusalem (file)
Flash 90
During an Arab wedding procession in Jerusalem's Old City on Thursday night, the Jewish state's 3,000-year-old capital bore witness to a multitude of terrorist organization flags.
Participants in the wedding, who received permission from the police to hold the procession in the Old City, waved the flags of terror groups including Hezbollah, Al Qaeda, and Hamas, alongside the flag of the Palestine Liberation Organization (PLO).
As they marched with the flags, the Arab revelers chanted slogans insulting Israel and Judaism, such as "even with the rifle, the ('Palestinian') nation will live and will not die," and "we will write on the pistol: Al-Aqsa (Jerusalem) is holy to us."
Sarit Appelbaum, a Jewish resident of the Old City, told Walla! that such events had in fact become routine in the area, noting "every few days there's a procession of one sort or another, that usually is accompanied by rock-throwing towards our homes."
"For each procession we close ourselves up in our homes, no one leaves and no one enters, for many long hours," added Appelbaum.
The Old City resident reported that the waving of terrorist flags "already doesn't frighten me so much; open violence, throwing stones, and sexual harassment of young girls frighten me more."
Sara Haetzni-Cohen of the My Israel movement responded to the incident, declaring "the fact that the Israeli police allow Hamas and Al Qaeda to march in the streets of Jerusalem is an additional deterioration in the failed policy that we are witnessing of late."
Flag terrorism
Earlier on Thursday, Israeli flags were desecrated in Yafo, adjacent to Tel Aviv. MK Ronen Hoffman (Yesh Atid) called the act yet another facet of terrorism, saying "if we do not deal with this 'price tag' phenomenon aggressively and with a mighty hand, we will all pay a hefty price in the long run."
Also in Yafo, Israeli flags were replaced by Palestinian Authority (PA) flags in mid-April at the Yafo Port. Reportedly the flags were found waving at the site for several hours, and despite a number of requests to Tel Aviv police, officers or Municipality workers had not rushed to take them down.
In Haifa last December, Jewish demonstrators held a rally with Israeli flags to protest an Arab demonstration that had occurred earlier which left store windows smashed. The Jewish rally was confronted by Arab demonstrators waving a large PLO flag.