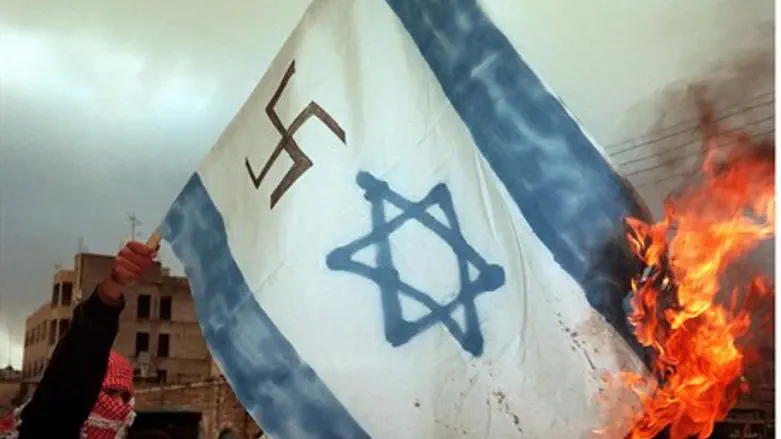 Anti-Israel demonstration (illustration)
Reuters
While Israel is preparing for Independence Day festivities next Tuesday, three Israeli NGOs have been exposed working specifically to undo the establishment of the modern Jewish state in 1948.
A special report released by NGO Monitor on Thursday examined the groups, which actively promote a "one-state" bi-national Israel to erase the country's Jewish nature. The same Thursday, Prime Minister Binyamin Netanahu announced his intention to submit a new Basic Law defining Israel's status as the nation-state of the Jewish people.
One of the NGOs, Zochrot, aims to "raise public awareness of the Palestinian Nakba," a reference to the Arabic "catastrophe" signifying the establishment of Israel in 1948.
"It is our hope that the new political structure created in de-Zionized Palestine will be that of a single democratic state," wrote Zochrot after a trip to South Africa's Cape Town in 2012 "to learn from cases of expulsion and return."
Zochrot further works to "recognize and materialize the right of return," meaning the flooding of Israel with roughly 5 million descendants of Arab residents who left Israel at the founding of the state. The call for a "return" is widely recognized as a demographic attempt to destroy Israel as a Jewish state.
An estimated 850,000 Jewish refugees were forced out of Arab lands in the same time period of the founding of Israel, a similar or larger figure than the number of Arab residents who left Israel.
"A Jewish state is impossible"
Another NGO, Israel Committee Against House Demolitions (ICAHD), likewise explicitly calls for the destruction of Israel as the Jewish state.
"The only option for resolving the conflict (is) a one-state solution," ICAHD Director Jeff Halper is on record as saying in 2008, adding "I think it is impossible to have a Jewish state."
The last of the three NGOs, Alternative Information Center (AIC), makes its rejection of the Jewish state of Israel clear as well.
AIC founder and head Michael Warschawski has said "one has to unequivocally reject the very idea and existence of a Jewish state, whatever  its borders ."
Warschawski has also written that "peace, or, better, justice, cannot be achieved without a total decolonization (one can say de-Zionization) of the Israeli State."
A more serious problem due to European backing
While the NGOs may not feature a very large membership base, NGO Monitor president Prof. Gerald Steinberg notes that they punch well above their weight due to the support they receive.
"The destructive impact of this Israeli fringe is inflated far beyond their numbers due to amplification, particularly from online NGOs such as Social TV and +972 Magazine," argued Steinberg. "The funders of these groups enable the anti-Israel demonization campaigns and share the moral responsibility for promoting them."
The various NGOs are largely backed by European governments.
Zochrot is funded by powerful European Catholic and Protestant aid organizations, which receive their funding in turn from European governments. From 2012 to 2013, Zochrot funders included organizations from Germany, Belgium, the UK and the Netherlands.
Similarly ICAHD has a list of donors on its website including the European Union (EU), Spain, the United Nations Development Program (UNDP), as well as several other European groups. 
It is worth noting that due to ICAHD's radical nature, the EU suspended funding temporarily in 2008, and in 2013 financial difficulties led the NGO to close its Jerusalem office.
As for AIC, its sources of funding from 2012 to 2013 included the EU, as well as Swedish, Spanish, and French groups, as well as the Geneva Municipality.
Steinberg noted that European governments have given their vocal support for a "two-state solution" in the past, by which a "Palestine" would be created in the heart of Israel. He notes that the NGOs all promote a "one-state" non-Jewish Israel, thereby betraying their European sponsors' stated vision.
"Direct and indirect European government funding for NGOs that promote a 'one-state' agenda is fundamentally immoral," said Steinberg. "Some funders have reviewed and severed relationships with anti-peace NGOs. These examples should be a model for others, including government-funding for radical church-based aid agencies."