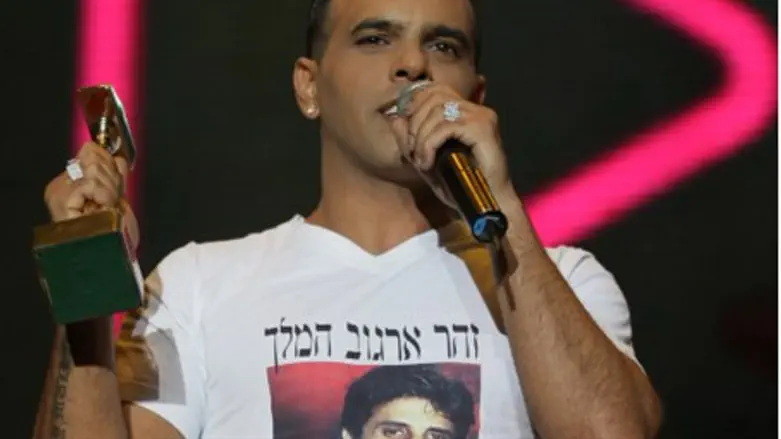 Eyal Golan
Israel news photo: FLash 90
A group of Religious Zionist rabbis in Beit Shemesh slammed the municipality for hiring singer Eyal Golan to perform on Israel Independence Day – and demanded that Mayor Moshe Aboutbul follow the example of Haifa, which cancelled a planned appearance by the singer.
Speaking to Arutz Sheva, Rabbi Eliezer Shenkilovsky, Rabbi of the Nofei Aviv community in the Givat Sharett section of the city, said that "it is very sad that here, in a city with a haredi mayor, they would hire a singer accused of doing very immodest things. It's sad that what Golan did is apparently less bothersome than the issue of little girls walking down the street to school."
The city became notorious over the past several years for the harassment of women and girls on buses and on streets by haredi men who accused them of dressing and acting immodestly, but if it's immodesty that Beit Shemesh was looking for, it could easily find it in Golan, who was accused of molestation and other crimes last year. The case was closed earlier this year due to lack of evidence.
Nevertheless, Golan does not belong in Beit Shemesh, the rabbi said. "He is a negative figure who is not a model we want our children to emulate. This is not gossip, his actions were not done in secret. The question of the legality of his actions is irrelevant as far as we are concerned. Allowing him to perform will provide him with undeserved legitimacy."
In response, the Beit Shemesh Municipality said that "the city is investing a great deal in cultural events for all members of the community. Mayor Aboutbul relies on his professional staff to make decisions on these events, and that staff chose Eyal Golan to perform. Considering the fact that Golan was not indicted for anything, we cannot and will not relate to stories that are nothing more than hearsay. It should be noted that the opposition to Golan's appearance is being tended by those who's candidate lost the second round of elections recently. Apparently, they have yet to accept the results of the election," the statement said.