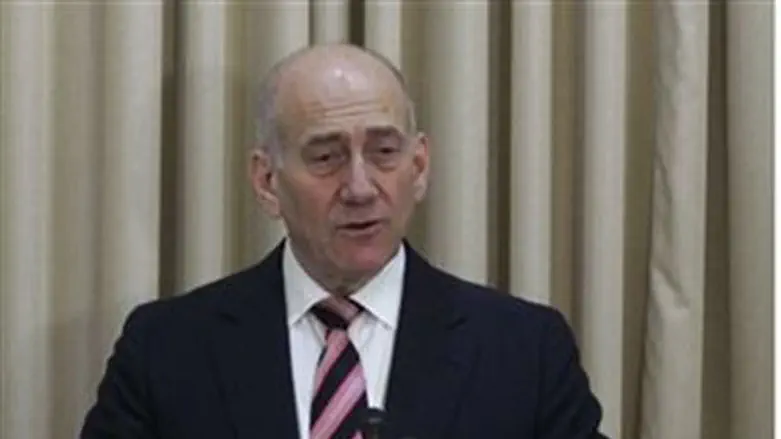 Former Prime Minister Ehud Olmert
Flash 90
Former Prime Minister Ehud Olmert on Tuesday told the judge in the Holyland affair that he had never taken a bribe.
Olmert spoke during the second day of his sentencing hearing. He was convicted on March 31 on two counts of receiving bribes in connection with the Jerusalem property development, in one of the biggest corruption scandals in Israeli history.
"This verdict was based on a fundamental error. Nobody else knows it better than me," he told Judge David Rosen. "I never asked for and never received a bribe, indirectly and directly, not for myself, not for my associates and not for my family. The only way I can appeal the court's verdict, which I know with all my heart is the wrong one, is to appeal to the Supreme Court."
Olmert's remarks came a day after Israel's state prosecution told the court it was seeking a jail term of five to seven years for Olmert. Press reports said the prosecution was also seeking to fine Olmert 1.2 million shekels.
Olmert's attorney, Eli Zohar, asked the court on Tuesday to sentence the former prime minister to 18 months in prison.
Judge Rosen has set May 13 as the date on which he will announce the sentence for Olmert and eight of the other nine defendants in the Holyland case.
The only defendant whose sentence will not be delivered on May 13 is Olmert's former bureau chief, Shula Zaken, who signed a plea bargain with the prosecution days before the verdict was read.
Zaken provided the police with a recording in which Olmert allegedly tried to obstruct justice, and in return would serve an 11-month prison sentence and have the appeals against her in past trials be cancelled.
However, Judge Rosen made clear after reading the verdict that he would request serious arguments before approving the deal made with Zaken and sentence her to the 11 months agreed upon with the prosecution.