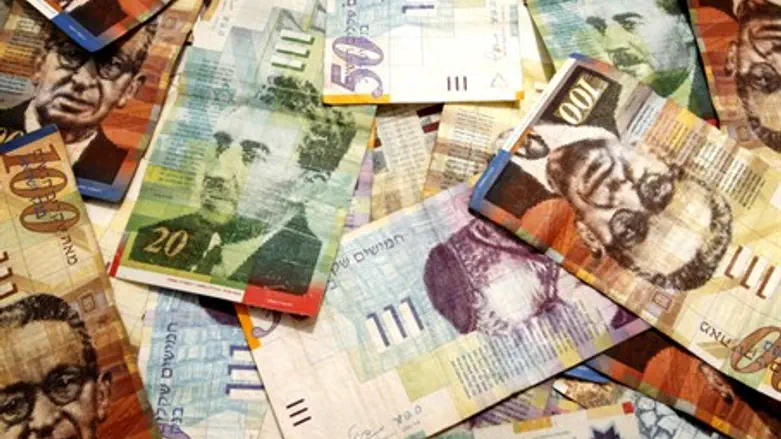 Money (illustrative)
Flash 90
Israel has begun implementing the recently announced sanctions on the Palestinian Authority (PA), a senior diplomatic official told the Hebrew-language Walla! news website on Monday.
According to the official, Israel has started to deduct the PA's debts from the tax money it collects on its behalf. The official added that this sanction "is just the first step".
The sanctions were announced last week, as Israel suspended the peace talks with the PA in response to its unity pact with the Hamas terrorist group.
Sanctions were also taken against the PA earlier in the month in response to its breach of talk conditions by applying to join 15 international conventions. Those sanctions put a near end to diplomatic contact, but not concerning the peace talks or the Defense Ministry.
According to Walla!, among the sanctions that Israel is considering against the PA is cancelling the VIP passes of various senior PA officials, which allow them free movement within Judea and Samaria, and at the crossings into Israel and Gaza.
Israel is also considering imposing a freeze on the drilling in the natural gas field off the Gaza coast.
The Palestine Liberation Organization (PLO), meanwhile, is continuing its unilateral moves. On Sunday, its central council adopted a plan to pursue attempts to join 60 United Nations bodies and international agreements.
The PA has already requested to join 15 international agencies in breach of the talk conditions. In response, Israel cancelled the fourth terrorist release "gesture".