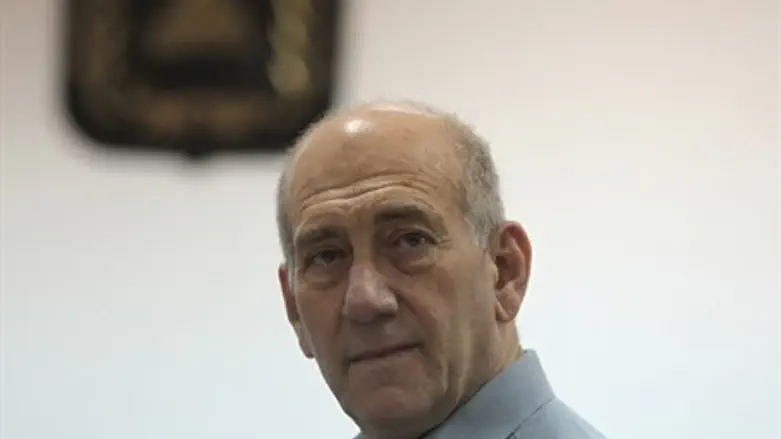 Ehud Olmert
Flash 90
Israel's state prosecution is seeking a jail term of five to seven years for former premier Ehud Olmert who was convicted in March of bribery, a judical source said Monday.    
Olmert was convicted on March 31 on two counts of receiving bribes in connection with a sprawling Jerusalem property development, in one of the biggest corruption scandals in Israeli history.    
"The state is intending to seek five to seven years of prison time for Ehud Olmert for the first count and between two and four years for the second," a source at the justice ministry told AFP after sentencing deliberations got under way at Tel Aviv District Court.    
Press reports said the prosecution was also seeking to fine Olmert 1.2 million shekels ($345,000/250,000 euros).    
In 2010, Olmert was named the key suspect in the so-called Holyland affair on suspicion that he received hundreds of thousands of shekels for helping developers get a massive residential construction project past various legal and planning obstacles.  
Following a two-year trial, he was convicted of receiving bribes to the tune of 560,000 shekels ($160,000/116,000 euros at the current exchange rate) with the judge also saying he had committed perjury.    
The 68-year-old has vowed to appeal.    
The sentencing process which began on Monday is likely to last several weeks, legal sources said.    
In July 2012, a Jerusalem court found Olmert guilty of breach of trust but cleared him on two more serious charges related to the alleged receipt of cash-stuffed envelopes and multiple billing for trips abroad.    
He was fined $19,000 and given a suspended jail sentence for graft.