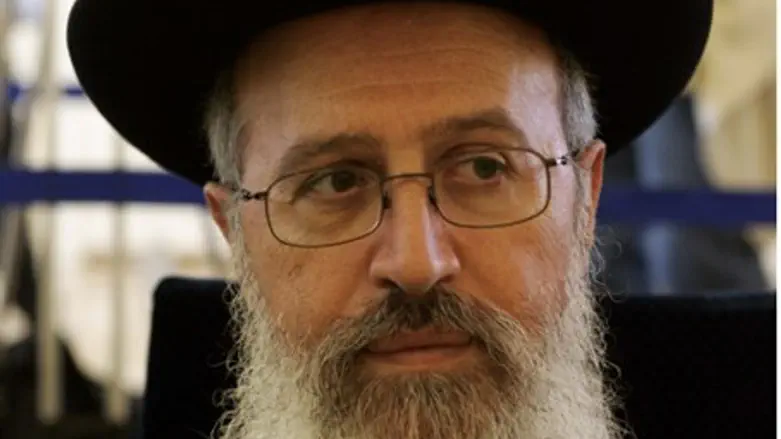 Rabbi Avraham Yosef
Flash 90
The Israel Police's National Unit for Fraud Investigations has completed its investigation againt the Rabbi of the city of Holon, Rabbi Avraham Yosef, on charges of extortion, fraud and breach of trust. 
Rabbi Yosef, son of the late Chief Rabbi Rabbi Ovadia Yosef ztz"l and borther of the current chief Sephardic rabbi, Rabbi Yitzhak Yosef, has been serving as rabbi of Holon since 1998, and was also chief supervisor of kashrut (i.e., issuing licenses to businesses that produce and serve kosher food) in the city of Or Yehuda between 2008 and 2011.
The investigation began in 2012, after the State Comptroller transferred suspicions against Rabbi Yosef to the State Attorney's Office, which looked into them.
Many witnesses were questioned in the course of the investigations and relevant documents were seized.
According to suspicions, as rabbi of Holon and kashrut supervisor in Or Yehuda, rabbi Yosef instituted a corrupt policy according to which businesses that wished to receive a 'mehadrin' kashrut certificate, signifying the strictest observance of kashrut laws, were required to buy meat and other foodstuffs under the observance of the Beit Yosef religious court, which is owned by the Yosef family. This requirement was imposed by threatening to disqualify businesses for the mahadrin kashrut label, and by failing to offer proper alternatives, in contravention of the Chief Rabbinate's guidelines.
The Head of the Department for Investigations and Intelligence accepted the investigating team's position, according to which sufficient evidence had been gathered to prove the allegations of extortion, fraud and breach of trust.
The investigative file has been transferred to the Tel Aviv District State Attorney's Office, which has been accompanying the investigation, for a decision regarding the filing of charges.