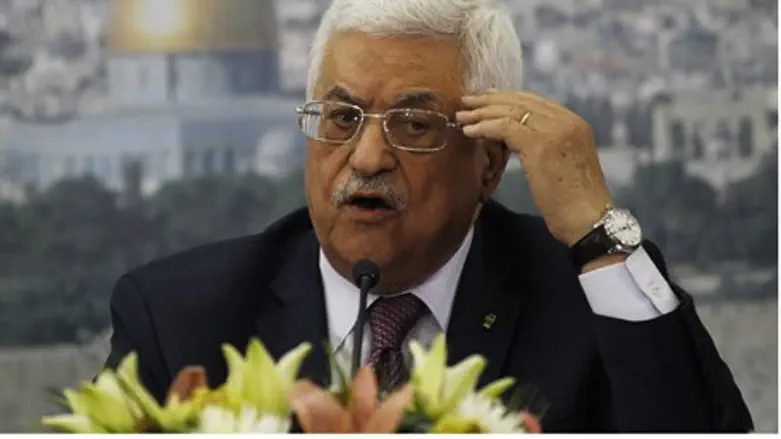 Palestinian Authority Chairman Mahmoud Abbas
Reuters
Palestinian Authority (PA) Chairman Mahmoud Abbas will release a statement condemning the Holocaust, the New York Times reports Sunday, in yet another attempt to repair its faltering image after torpedoing peace talks and approaching Hamas for a unity pact. 
Abbas will reportedly call the Holocaust "the most heinous crime to have occurred against humanity in the modern era" and give condolences to victims' families, according to the daily.
Palestinian Arab news agency WAFA adds that the statement will go one step further, saying that the Holocaust was "a reflection of the concept of ethnic discrimination and racism, which the Palestinians strongly reject and act against."
Abbas is a well-known Holocaust denier, having entitled his dissertation "The Other Side: the Secret Relationship Between Nazism and Zionism."
The dissertation was published as a book in 1984 and is widely taught throughout the PA. 
It downgrades the number of Holocaust victims to "[possibly] below one million," and accuses Zionist leaders of encouraging the persecution of Jews.
"It is possible that the number of Jewish victims reached six million, but at the same time it is possible that the figure is much smaller--below one million," Abbas wrote. "It seems that the interest of the Zionist movement, however, is to inflate this figure so that their gains will be greater… This led them to emphasize this figure [six million] in order to gain the solidarity of international public opinion with Zionism."
Policy Shifts?
Abbas's statement, ahead of Holocaust Memorial Day, is not the first which alleges a sudden shift in policy.
On Saturday, Abbas alleged that it would demand that Hamas recognize Israel's existence as a condition in its unity pact, and demand that the terror organization renounce terrorism entirely. 
"Any government formed would comply with our national agreements . . . to recognize the State of Israel and renounce terror," Abbas said, at a meeting of the PLO Central Command in Ramallah. 
Earlier this month, Abbas also condemned the murder of high-ranking Intelligence official Baruch Mizrahi, hy"d, who was killed on Passover eve by Palestinian Arab terrorists.
He later denied the condemnation, alleging he had condemned terror in general but not Mizrahi's murder and that the statement had been "lost in translation."
Abbas has made a number of drastic moves over the past month, from torpedoing peace talks by applying for membership in international organizations, to threatening to dismantle itself, to approaching Hamas for a unity pact.