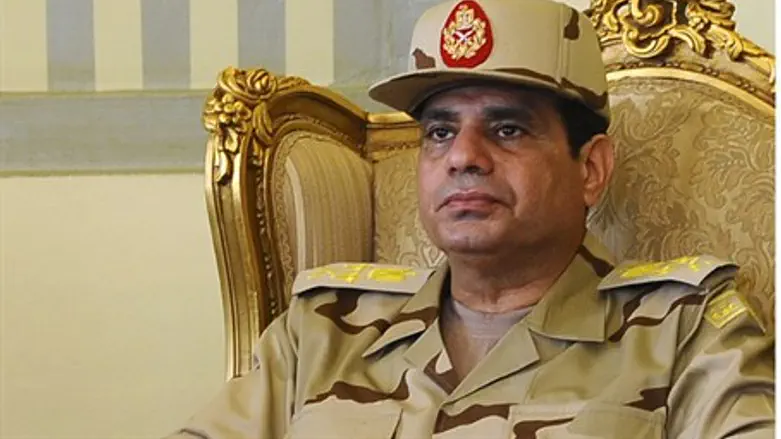 Abdel Fattah al-Sisi
Reuters
Egypt's former defense minister and presidential candidate, Abdel Fattah al-Sisi, is Jewish, according to Egyptian journalist Saber Mashhour.
Mashhour's comments were posted to the internet on April 20 and translated by the Middle East Media Research Institute (MEMRI). He claimed that Al-Sisi grew up next to Israel's former Chief of Staff and Defense Minister, Moshe Dayan.
"This is the question that preoccupies the entire Egyptian people: Was Al-Sisi's mother Jewish?" said Mashhour.
"The secret service of the military rule sent all their media outlets to the neighborhood where Al-Sisi was born. The strange thing is that they did not meet Al-Sisi's mother or brothers. They only met Al-Sisi's relatives on the father's side. Al-Sisi himself did not refute the rumor that his mother was Jewish. All he said, in an interview with Al-Masry Al-Youm, was, 'She is an Egyptian woman to the core, and she taught us to rely on Allah and accept fate. She would pray for Allah to protect me in everything,'" he added.
Mashhour further stated that "Al-Sisi was born in the Jewish Quarter. His father was an arabesque dealer who traded with his Jewish neighbors."
Al-Sisi and former Egyptian President Gamal Abdel Nasser, he claimed, are "one and the same. Both were raised in Khoronfish, in the Jewish Quarter."
"If you look at the map, you can see that Al-Sisi and Abdel Nasser were neighbors," claimed Mashhour.
"Al-Sisi's home is located at El Barkukia neighborhood, while Abdel Nasser's home was located in the Khamis Al-Ads neighborhood. The two homes are separated only by the Abu Taqiya neighborhood. Both are located in the Jewish Quarter."
Not only was Nasser Jewish, claimed Mashhour, Dayan "lived right across from Gamal Abdel Nasser."
"Gamal Abdel Nasser used to go out and play with his neighbor, Moshe Dayan. The map shows that the home of Moshe Dayan, the Israeli Minister of Defense who killed thousands of Egyptian soldiers, in the wars of 1948, 1956, and 1967, was located in the Khamis Al-Ads neighborhood, across from Abdel Nasser's. The home of Abdel Fattah Al-Sisi was located a few meters away," he stated.
In another video recently released by MEMRI, spokesmen for both Al-Sisi and presidential candidate Hamdeen Sabahi advocated for putting the Israel-Egypt peace treaty to a vote in a referendum.
Another recently released video showed a play which aired on Egyptian television and in which the Israeli Mossad was blamed for the Arab Spring.