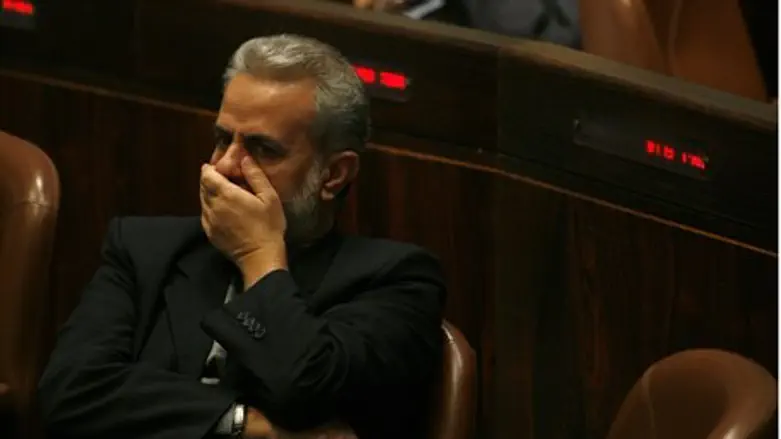 MK Ibrahim Sarsour
Flash 90
Arab MK Ibrahim Sarsour (Ra'am-Ta'al) had harsh criticism for Prime Minister Binyamin Netanyahu on Thursday evening, after Netanyahu said that Palestinian Authority (PA) chairman Mahmoud Abbas should choose between peace with Israel and peace with the Hamas terrorist group.
Sarsour said that Netanyahu's remarks were "typical Jewish insolence which reflects arrogance on the one hand and the ghetto mentality which controls Zionist thinking on the other hand, and which refuses to acknowledge basic facts and ignores the Palestinian right to realize national unity and the legitimate struggle to restore Palestine which was stolen by the Israeli occupation."
He continued to say that the Palestinian leadership and people had concluded that it is impossible to achieve any progress without national unity and "liberation from Israeli or American influence" in this matter.
"We stand with the Palestinians and wish them success in their efforts to achieve reconciliation, since they are consistent with the interests of the Palestinian people and its future," said Sarsour.
Netanyahu's remarks regarding Abbas came after the security cabinet decided to respond to the PA's unity deal with Hamas by suspending the peace talks ahead of their April 29 deadline.
Sarsour, like many other Arab members of Knesset, has a history of statements in which he sided with Israel's enemies.
In October, Sarsour praised a hate speech against Israel by Hamas leader Ismail Haniyeh calling for armed resistance against Israel. Sarsour also termed Jews "prophet murderers."
A short time later, he declared that the Biblical forefathers of the Jewish nation actually practiced Islam. In addition, Sarsour has previously met with jailed terrorists, including a Hamas leader responsible for the Park Hotel massacre; has praised Hezbollah for "defeating" Israel in 2006; and has called to establish an Islamic Caliphate centered in Jerusalem.