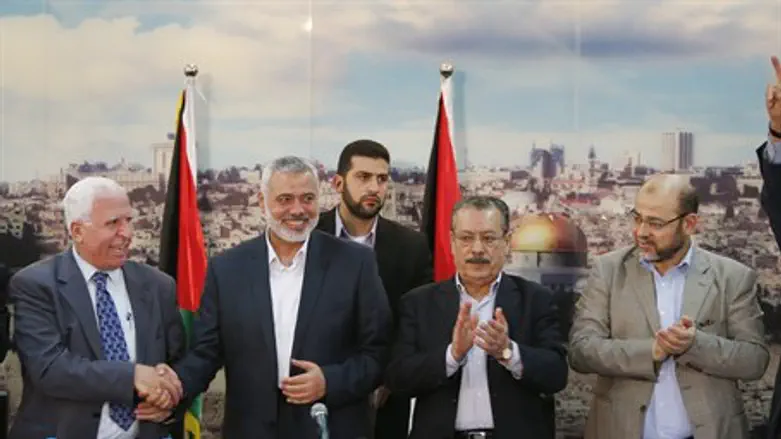 Senior Hamas, Fatah officials celebrate unity
Reuters
Even as Israel suspended the peace talks with the Palestinian Authority (PA) on Thursday after it signed a unity deal with Hamas, the European Union (EU) saw fit to praise the alliance.
"The EU has consistently called for intra-Palestinian reconciliation behind" PA Chairman Mahmoud Abbas, said EU spokesperson Michael Mann, warmly welcoming the PA and Hamas unity deal signed Wednesday.
It is worth noting that Hamas is on the EU's list of terrorist organizations. That listing specifically includes both "Hamas" and "Hamas-Izz al-Din al-Qassem," meaning that both the military and governmental branches of Hamas are recognized as terror groups by the EU.
Nevertheless, the new reconciliation is "an important element for the unity of a future Palestinian state and for reaching a two-state solution," added Mann.
However, a spokesman for EU foreign affairs head Catherine Ashton clarified that "the EU's top priority is that the current talks continue beyond April 29," noting the deadline to the nine-month-long peace talks.
According to Mann, the EU is looking "into the details of the (PA-Hamas) agreement and its implementation."
The EU spokesman added that his organization "welcomes the prospect of genuine democratic elections" as outlined in the accord.