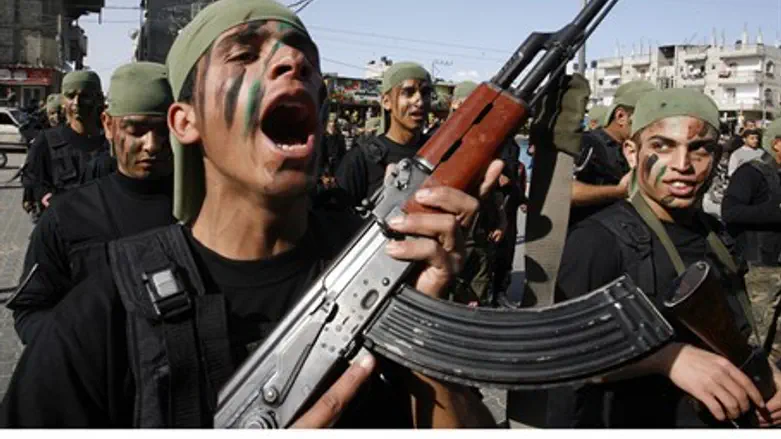 Young Hamas recruits in Gaza
Flash 90
Left-wing lobbying group J Street has called on the US government to keep pushing Middle East peace talks, even if they involve negotiating with Hamas.
Despite the Israeli government's insistence that it will not negotiate with a Palestinian Authority which includes Hamas - following a landmark unity deal was reached between the Islamist terrorist group and the PLO - J Street insists that the US should redouble its efforts in pushing for Israel to continue negotiating.
The Washington-based group acknowledged Hamas' record of "calling for Israel's destruction, using terror and violence against Israeli civilians and denying the Holocaust", but insisted that since the group had considerable support among the Palestinian Arab public, Israel had no choice but to engage with it.
J Street's position clashes with statements coming from the US government, in which State Department officials backed Israel's hesitance to talk to a "Palestinian leadership" which includes Hamas representatives.
"It's hard to see how Israel can be expected to negotiate with a government that does not believe in its right to exist," State Department spokeswoman Jen Psaki said.
Hamas - whose charter calls for the destruction of Israel and advocates the killing of Jews as a religious obligation - is a proscribed terrorist group in much of the world, including the US. Reports Thursday suggest that America could respond to any final deal to merge Hamas and the PLO, which runs the Palestinian Authority, by severing funding.
J Street has regularly come under fire from Israeli and Jewish groups for not living up to its self-declared "pro-Israel" brand, by consistently opposing the policies of Israel's elected government and encouraging the US government to pressure Israel into making concessions.
The organization recently came out in support of the PA's rejection of Israel as the nation-state of the Jewish people.