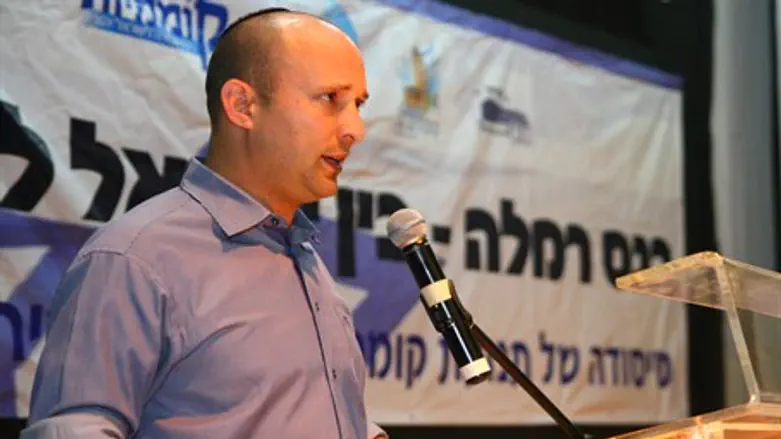 Naftali Benentt at Ramle Conference
Avishai Bloch
Economics Minister Naftali Bennett responded to Palestinian Authority (PA) Chairman Mahmoud Abbas's threats to disband the PA on Tuesday, if peace talks were not extended with a three-month building freeze on Judea and Samaria.
While at the Ramle Conference, Bennett spoke to Arutz Sheva and noted that Abbas (Abu Mazen), who made similar threats on Sunday, has now threatened to disband the PA for the seventh time.
Bennett remarked that Abbas's "threats" constitute a demand for Israel to "divide Jerusalem, release murderers" and divide the country along the 1949 Armistice lines, and if Israel doesn't "then he's going to commit suicide. Well, he's got to improve the incentive, something's wrong there."
Speaking on stage at the conference, Bennett commented that Abbas has now repeated his threats for a seventh time. "On June 14 Abbas promised to split up the government, on July 30, 2008 and other dates."
Additionally Bennett quoted Abbas as saying on December 27, 2012, that if the peace talk deadlock continues "I'll hand over the keys."
"What's the threat?"
"We hear again and again the repeat of the same threat, that if we don't advance and give him everything he wants, poor us, he's going to break apart the PA," commented Bennett.
"If (Abbas) is doing that for Zionist motives I appreciate it. But if he's using it as a threat against us, then I ask him: what's the threat? Breaking apart the PA that incites terror? Breaking apart the PA that breaches the Oslo Accords? Breaking apart the PA that pays fixed stipends to murderers of Jews?" asked Bennett.
Bennett gave Abbas a suggestion from the stage, saying in English "if you're going to shoot, shoot, don't talk."
The economics minister added "the state of Israel is stronger than the threats of Abbas, we heard about terror threats in the past, we heard threats about a national tsunami (of boycotts); the new threat they're selling is the disbandment of the PA."
"I've got news" for Abbas, said Bennett, referring to the threats to hand over the keys. "There's always someone who will take the keys and we certainly don't intend to adopt a policy of national suicide from such a great fear as Abbas retiring."