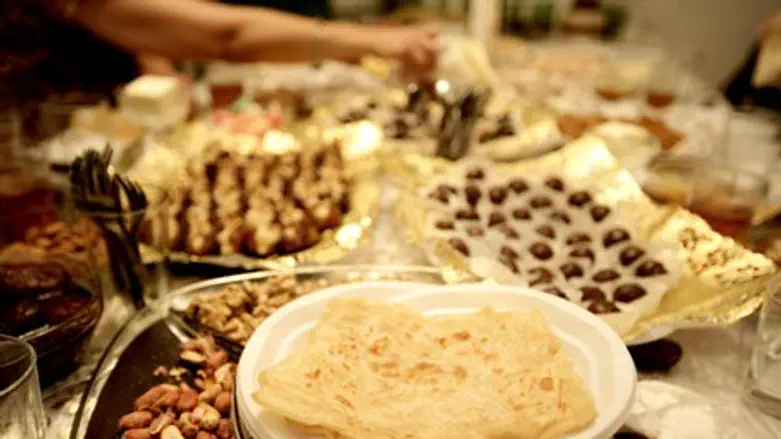 Maimouna treats
Flash90
Secular residents of Ashdod were up in arms Monday night because of a "men's only" Mimouna celebration taking place in the city. The event was being attended by Chief Sephardic Rabbi Yitzchak Yosef, along with top officials in the Shas party.
Mimouna, the post-Passover spring festival associated with Moroccan Jewry, has been adopted by many groups in Israel, with events held on the night after Passover featuring sweets, music, and visits to family and community dignitaries. Mimouna is also a favorite day for politicians, who attend the many events to shake hands with constituents.
Based on flyers and posters advertising the event, it appeared that the Ashdod municipality was a partia sponsor of the event – and it is at the municipality that secular residents were directing their anger. Speaking to reporters, one resident said that this was the first city-sponsored event she had encountered that women were not allowed to attend.
Secular residents called on city officials to boycott the event, because of the "negative message" the "insult to women" was causing.
A municipality spokesperson said that the city was not a sponsor of the event, and that any implication that it was a sponsor was incorrect. "The Ashdod municipality is holding two events celebrating Mimouna on Tuesday, which will be open to all."