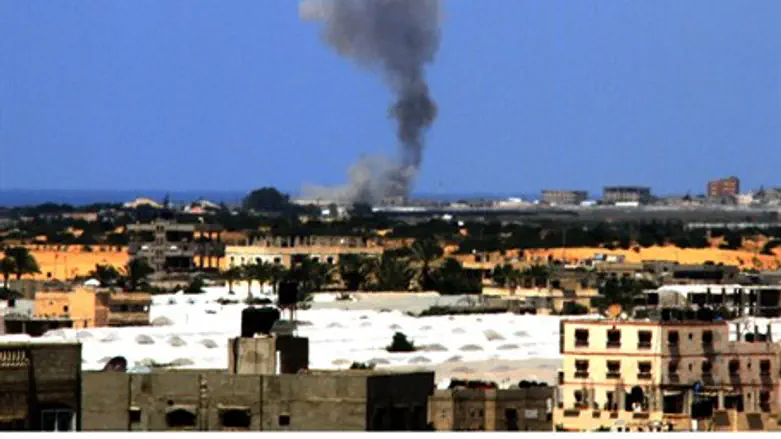 IAF Airstrike in Rafah
Flash90
Palestinian Arab terrorists in Gaza fired a salvo of seven rockets into southern Israel on Monday, one of which narrowly missed a synagogue packed with worshippers in the city of Sderot.
Two of the rockets landed in Sderot, which lies on the border with the Hamas-controlled territory, as hundreds of worshippers were gathered for the final day of the Jewish festival of Pesach (Passover).
Miraculously, however, no one was hurt, although police said in a statement that a road in a residential neighborhood was damaged.
Israel responded Monday by eliminating "two terror activity sites in the southern Gaza Strip and a third site in the central Gaza Strip, in response to the latest severe aggression emanating from Gaza," according to an IDF statement. "Direct hits were confirmed." Pictures confirm that at least one of the strikes was in or near Rafah. 
Sources in Gaza also claimed that the Israeli Navy had eliminated targets near Khan Younis, but the report remains unconfirmed. 
The IDF also stated that Hamas fired an anti-tank missile at IDF patrols near the border fence earlier Monday. The missile caused no injuries or damage. 
Both attacks come on the final day of the Passover holiday, which has seen increased activity from Hamas. Hamas terrorists rioted and occupied the Temple Mount, Judaism's holiest site, just prior to Passover last week, sparking outrage from several public officials. 
Prime Minister Binyamin Netanyahu strongly condemned the attack on Monday night. 
"We shall continue to act forcefully against our enemies," Netanyahu wrote on his official Twitter account. "Today, the Israel Defense Forces attacked in the Gaza Strip those who sought to harm the citizens of Israel and disturb the calm of the holiday."