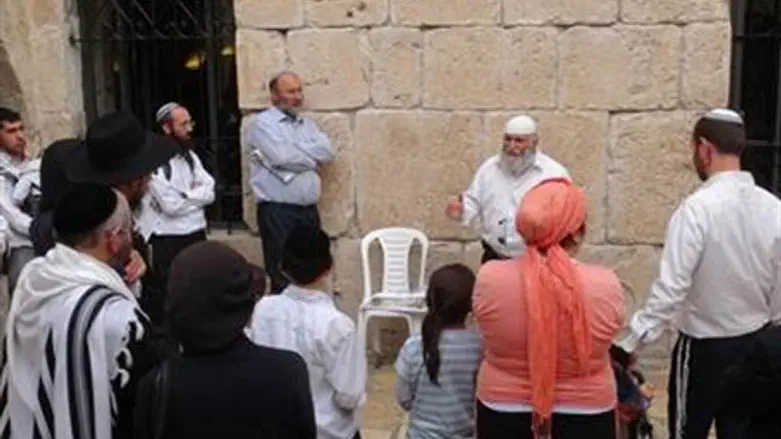 Rabbi Sevilia guides visitors to Tomb.
Hezki Ezra
Is there a secret deal between the Vatican and Israel to transfer control over King David's Tomb to the Catholic church? An investigative report in Makor Rishon cites La Stampa Vatican Insider journalist Andrea Tornielli as saying that the deal has been nearly completed, and that Deputy Foreign Minister Ze'ev Elkin is in charge of the negotiations with the Vatican, but Israel denies any such deal.
The agreement allegedly contains two elements. The first is Israel's forgoing the levying of property tax and other taxes for all "churches, holy sites, prayer houses and cemeteries." The second is the transfer of the "Last Supper room" on the floor above David's tomb to the Franciscan Custody of the Holy Land (Custodia Terræ Sanctæ).
Rabbi Yaakov Sevilia, an activist for King David's Tomb, told Arutz Sheva Sunday that there is also a deal between Christians and Muslims, according to which the Muslims will retain control over the Temple Mount whereas Mount Zion will become Christian property. He cited journalist Gulio Meotti, who contributes regularly to Arutz Sheva, as the source for this knowledge.
Rabbi Sevilia emphasized that the tomb is, without a doubt, the burial place of King David, and mentioned a recent book – "The Secret of David's Tomb" – as containing proof of this claim.
"The Christians believe that the Tomb of David is indeed located here, but they do everything possible to confuse us, the Jewish people, so that we lose our connection to this place," he accused. He added that while there has been a Jewish awakening with regard to the site, the Christian presence at the tomb is still much greater than the Jewish presence, with about 200 tour buses bringing Christians to the site daily.
There have been reports in the past about a deal to transfer the second floor of the Tomb to the Vatican. Tornielli says that this is the core issue in talks between the Vatican and Israel. Rabbi Sevilia claims that the Last Supper Room is just a toehold that the Vatican intends to expand in the future, in a ploy to take over the entire Tomb site.
An Israeli diplomatic source told Arutz Sheva Sunday that the Israeli government has no intention of transferring control over the site to the Church.