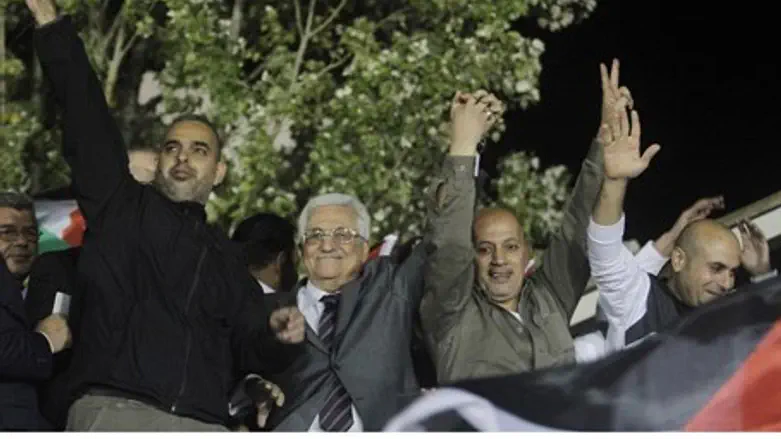 Mahmoud Abbas lauds Issa Abed Rabbo (R) as a
Flash 90
Many Israelis have long maintained that conditions for Arab terrorists in jail are far too comfortable and do not provide enough of a deterrent, citing numerous incidents of Palestinian Arabs who have carried out attacks purely in order to receive the perks that Israeli jails afford them, including free higher education.
A recent interview with one terrorist recently released from jail as a "goodwill gesture" to the Palestinian Authority is unlikely to change that popular viewpoint, as the convicted killer laments how the "hardships" of life in an Israeli jail prevented him from fully pursuing his hobby of stamp-collecting.
On October 1984 Issa Abed Rabbo murdered two Israeli university students, Ron Levi and Revital Seri, in cold blood, after tying them up and blindfolding them at gunpoint. The two were enjoying a hike south of Jerusalem, and were shot in the head from point-blank range.
Rabbo was given two consecutive life sentences, but was released in October 2013 as part of one of several prisoner releases aimed at coaxing the PA to the negotiating table.
Earlier this month he gave his second interview to official PA media outlet Al Hayat Al Jadida, and told how he has "enthusiastically resumed his hobby, which the occupation had prevented him from [pursuing] during the 30 years he spent in the occupation's prisons."
The interview was translated by Palestinian Media Watch, an NGO which monitors Palestinian Arab media for incitement, anti-Semitism and glorification of terrorism.
"I have resumed my hobby of stamp collecting with enthusiasm, to make up for what I lost during my time in prison," he told the paper. "I'm proud of the stamps I collected in prison, but it was difficult for me to pursue [my] hobby in prison, because there were many restrictions, few letters arrived, and the quality of the stamps [was poor].
"Prison also affects our hobbies, and I had no special albums to put the stamps in properly, so I put them in an envelope - the same one that left prison with me."
But despite the "restrictions", he still managed to collect one hundred stamps, "which accompanied me whenever I moved between nearly all of the occupation's prisons."
In a previous interview Rabbo - who upon his release was publicly hailed as a "hero" by PA leader Mahmoud Abbas - proudly described the murder of the two students. In the January interview with PA TV, he said he "tied them up of course and then sentenced them to death by shooting, in the name of the revolution. I shot them, one bullet each, and went [hiding] in the mountains..."
He was publicly lauded as a 'hero' by PA leader Mahmoud Abbas in a ceremony following his release along with more than two dozen other convicted terrorists.