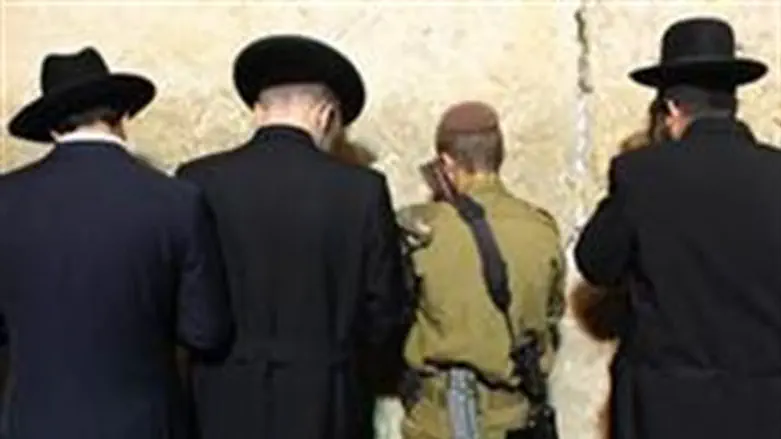 Religious soldier and hareidi religious men a
Israel news photo: Flash 90
For the second time, Israelis of all religious stripes – secular, haredi, and National Religious – will march on Thursday from secular Ramat Gan to haredi Bnei Brak, in an annual "march of unity" designed to reduce tensions and disagreements between the groups, and to provide an example of a better way to conduct relations.
The march is sponsored by the Gesher organization. Speaking to Arutz Sheva, Gesher head Ilan Gal-Doe said that he hoped that the march would have the desired effect. "Many people from all communities want to see more unity on a personal and social level, and are willing to put aside the political and ideological arguments that mark Israeli society," he said.
That feeling extends to the haredi community – to the extent that one of the groups sponsoring the march is a haredi group called Plugta. Members of that group, along with counselors from Gesher, will conduct discussions at the end of the march. Gal-Dor said that the purpose of the event was not to "re-educate" anyone, but to provide an example and an opportunity that hopefully many will wish to emulate.
Gal-Dor said that in recent years haredi society was becoming much more open to building a positive relationship with secular Israel – and that included joining the workforce and serving in the IDF. But the recent legislative process initiated by Yesh Atid, to forcibly draft yeshiva students, has caused many of those who are open to that positive relationship to revert back to their older, more insular ways, as a feeling of being "under attack" by secularism pervades haredi community.
With that, Gal-Dor said, he hoped that the damage would only be temporary. "I am hoping that the haredi community will come around to the idea that they are not under threat, and do not have to take these extra steps to defend themselves," he added.