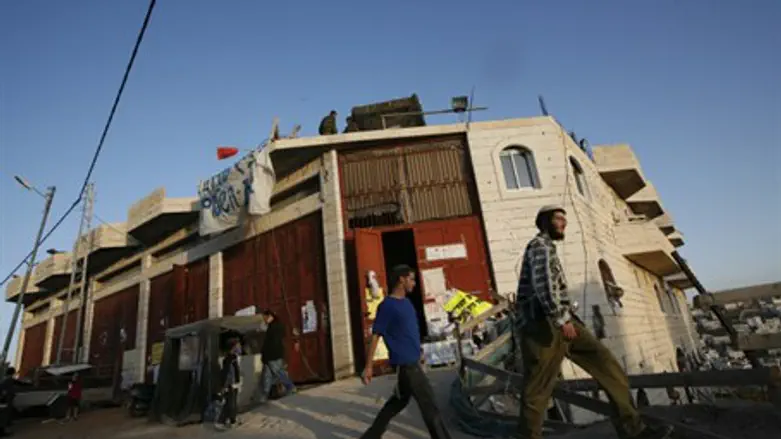 Peace House
Israel news photo: Flash 90
Defense Minister Moshe Ya'alon officially approved for Jewish families to move back into the Hevron "peace house" on Sunday, after a March Supreme Court ruling which deemed they had legal ownership of the building. 
The Jerusalem District Court ruled earlier Sunday that Jewish families could move back into the Peace House, after the amount of money which had yet to be delivered to the sellers was deposited in the court fund.
Following completion of the transaction, and after the Supreme Court rejected appeals and recognized the validity of the sale, the Court canceled the order which barred the buyers from going home.
The Chairmen of the Land of Israel Caucus in the Knesset, MK Orit Struk (Jewish Home/Bayit Yehudi) and Yariv Levin (Likud), welcomed the move to allow families to return and said that this significant achievement for Jews to reclaim the city of their forefathers, the Biblical Abraham, Isaac, and Jacob.
"This marks the victory of justice over the anti-Semitic Palestinian Authority, which prohibits selling land to Jews, and paves the way for the continued acquisition of land and houses throughout the whole Land of Israel," they said, in a joint statement. 
In October 2012, the Jerusalem district court ruled that the house had been legally purchased, but Arabs who contested the ownership, encouraged by leftist groups, appealed the decision to the Supreme Court, and claimed that some documents of purchase had been forged.
The final decision handed down last month was that the house had been legally purchased and no forgeries took place.
In December of 2008, then-Defense Minister Ehud Barak called leaders of the settlement enterprise to meetings in Tel Aviv, to discuss the future of the house. Shortly after the meetings, Yassam riot police units raided the house and evicted its residents.