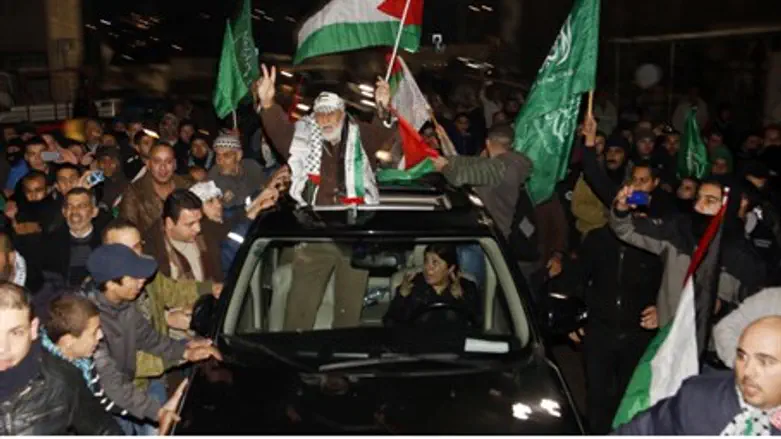 Celebrations during the last terrorist releas
Flash90
A senior Israeli government official told Channel 2 Saturday that, despite the ultimatum of Jewish Home (Bayit Yehudi) Chairman Naftali Bennett to leave the government over the issue, "there will be no deal [for peace talks to resume or free Jonathan Pollard] if Israeli-Arab terrorists are not released." 
Official progress on peace talks from Israel remains somewhat murky, with no unilateral declaration that a deal has or has not been made. 
But several top officials from left-wing or center-left parties - including HaTnua, Labor, and Yesh Atid - have threatened to leave the government entirely and go to elections in the event that a deal is not struck between Israel, the US, and the Palestinian Authority (PA) to continue the peace process. 
On Saturday night, Yesh Atid MK Ofer Shelah reiterated his party's stance on the issue. 
"Bennett's threats are empty," he said, in an interview to Channel 10. "Jewish Home is in no place to make threats; Yesh Atid and other political parties are giving enough political backing to the Prime Minister to continue the peace process." 
"If over time we will see that there is no negotiation, no political progress, we will not be in the government," he added. 
After a dramatic series of negotiations, Israel officially cancelled the fourth release of convicted Arab terrorists last week and issued harsh sanctions on the PA over its unilateral diplomatic moves to apply for 15 UN-linked agencies.
In response, the PA issued a number of extreme demands against Israel, including the release of over 1,000 terrorists and a withdrawal to 1949 Armistice lines - essentially demanding concessions on all key issues before negotiations even continue.
The US, which has been scrambling to save the negotiations, has remained ambiguous about the projected future of talks. A possible deal which would see Israel freeze construction in Judea and Samaria and release more terrorists in exchange for the freedom of Jonathan Pollard - and for the PA to continue talks - has failed to receive a warm welcome from either side. Israel has already said that there is "zero chance" of talks continuing. 
Last week, Bennett threatened to resign from the government if the deal goes through. 
"Israel has been facing a new situation in recent days, with the Palestinian appeal to the UN which flagrantly violated all the agreements with them since the Oslo Accords until today," Bennett stated Thursday. "The emerging deal, if it includes the release of murderers with Israeli citizenship, harms Israeli sovereignty, and not only that - it is done being when the Palestinians have not cancelled their requests to join international organizations." 
"Therefore, if a proposal for release of Israeli murderers comes before the Cabinet, the Jewish Home will oppose it," Bennett declared. "If the proposal will pass - the Jewish Home will resign from the government, which frees murderers with Israeli citizenship. Enough is enough."