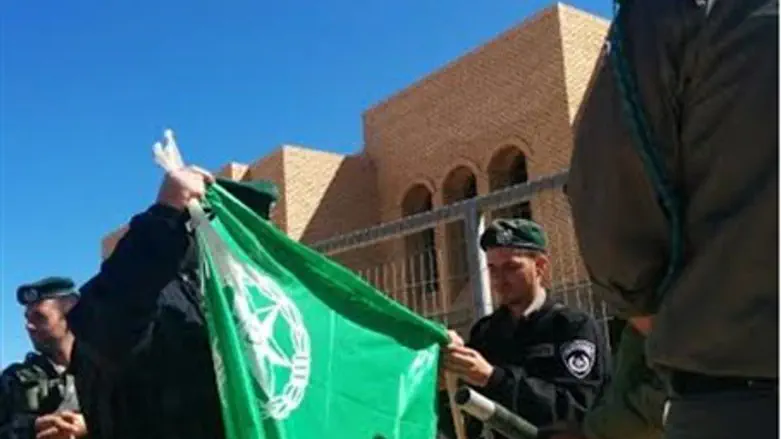 IDF seizes Yitzhar Yeshiva
Yitzhar
Attorney Itamar Ben-Gvir warned that the IDF's seizing of the Od Yosef Chai Yeshiva in Samaria's Yitzhar on Friday morning will not cut down on "price tag" vandalism. According to Ben-Gvir, the move will only encourage more attacks.
"Law enforcement authorities would never dare mention seizing Bir Zeit University or any other hornet's nest," remarked Ben-Gvir, referring to a town north of Ramallah in which IDF forces were attacked by an Arab mob in late February while trying to arrest a terrorist, eventually forcing them to kill him and another terrorist along with a rioting civilian.
"But when it's residents of Yitzhar everything is kosher, everything is allowed and the rule of law disappears," added Ben-Gvir, arguing that Defense Minister Moshe Ya'alon is "behaving like a bull in a china shop."
Ben-Gvir represents several Yitzhar residents arrested on suspicion of involvement in the destruction of an IDF outpost on Tuesday, after the IDF destroyed four homes in the town earlier in the day. The destruction came in response to two tire-slashings of IDF vehicles that were classified as "terrorism." The slashings were thought to have been motivated by the IDF destroying a local home on survey land the week before for "no reason."
On Tuesday, Ben-Gvir responded to the destruction of the four houses, saying "IDF forces have no legal precedent to exact its own 'price tag' on Yitzhar residents. But more than that, whoever ordered the demolition is not smart. Demolishing homes will only encourage and increase the likelihood of more 'price tag' attacks, and certainly does nothing to calm the situation." 
While noting the attacks on the IDF were unjustified, Ben-Gvir stated on Thursday "you have to try and look at things from the perspective of these youths. They are there on their hilltop, and forces come to destroy their homes time after time, and on the other side of the wadi, on the opposite hilltop, thousands of homes are being built illegally by Arabs and no one touches them."
Yitzhar demands the IDF withdraw
In response to the IDF action on the yeshiva, Yitzhar on Friday morning called on the IDF to immediately remove its troops.
"A hysteric and historical act of this type is unprecedented since the founding of the state," remarked Ezri Tovi, a spokesman for the town. "Turning a yeshiva into an army base is a clear crossing of lines."
The spokesman added "would a mosque that calls day and night to destroy the state of Israel merit similar treatment? To remind everyone, the yeshiva building looks out on a mosque which has had a destruction order from the Supreme Court on it for many years."
"For some reason the rule of law shows great patience" towards the illegal mosque, noted Tovi. "We call on the government of Israel to immediately leave the yeshiva."