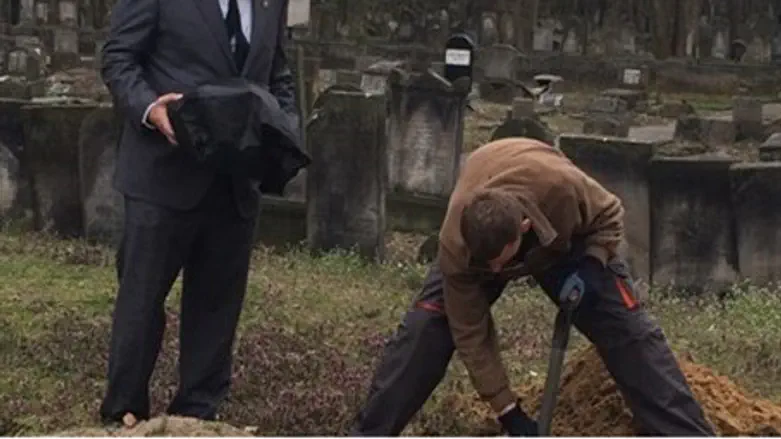 Johnny Daniels gathering the bones
Public Relations
A disturbing discovery was made in the Polish town of Dobrzyn Nad Wisla on Monday by Johnny Daniels, CEO of Mimaamakim (From the Depths), a group which brought MKs to visit Auschwitz in June for Holocaust Remembrance Day. 
Roughly half of the residents of the small Polish town were Jewish before the horrors of the Holocaust. Now the only remnants of the Jews, their graves, are in danger of destruction, as Jewish bones lie exposed in the Polish soil.
Daniels arrived in the town on Monday to deliver a lecture. His paternal great-grandfather had lived in the town, located a two-hour trip to the north of the capital city Warsaw, and succeeded in fleeing to London in the 1930s. The rest of the family was murdered by the Nazis, along with the other 1,500 Jewish residents.
The only remaining sign of the once vibrant Jewish community is the local Jewish cemetery, which was also ransacked by the Nazis when they broke apart gravestones to build a public park.
The cemetery, located adjacent to the Vistula River, is now in danger of eroding away due to its proximity to the body of water. The river's banks are rising at a rate of ten meters (33 feet) annually, shifting the tombstones and exposing the graves.
Daniels visited the cemetery accompanied by the town's mayor and the deputy chairman of the Polish parliament, the Sejm. There he found to his shock that bones were visible on the ground due to the river's encroachment.
Burial for a second time
Upon making the unpleasant discovery, Daniels contacted the Chief Rabbi of Poland, Rabbi Michael Schudrich, a personal friend and patron of the Mimaamakim organization.
Rabbi Schudrich decided to have the bones brought to the Jewish cemetery in Warsaw to be reburied according to Jewish law. Daniels gathered the bones, keeping them in a box until returning to Warsaw later that same day, where they were buried in the afternoon.
Just last week a similar find was reported in western Poland, where seven Jewish gravestones were discovered to have been used to build the basement ceiling of an abandoned pre-World War II house.
The gravestones were found in the town of Golina by the Polish historian Krzysztof Grochowski, who by chance decided to photograph the building shortly before its planned demolition.