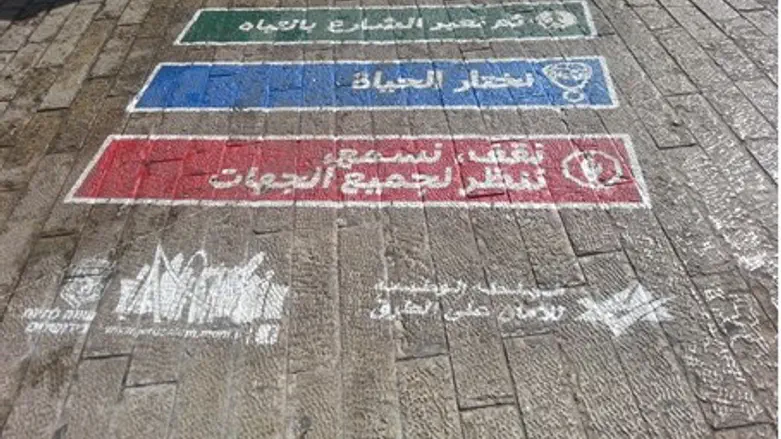 Jerusalem Municipality signs in Arabic
Aryeh King Facebook page
New signs painted by the Jerusalem Municipality on the streets of the Israeli capital have set off a furor, given that a number of the signs located adjacent to the municipal buildings in the center of the city are written in only one language - Arabic.
"Welcome to Damascus," wrote Councilman Aryeh King, chairperson of the United Jerusalem faction, while exposing the signs on his official Facebook page Monday. He noted the signs were painted on the sidewalk of IDF Square on central Yafo Street, seconds from the municipality building in one direction and the Old City's Yafo Gate in the other.
King declared that he plans to "clarify who the genius was" who decided to paint the signs, pointing out that the law requires all official signs to be first in the official language of Israel, namely Hebrew; only afterwards can they feature Arabic and English.
The signs feature three boxes of text, painted in green, blue and red. "If they only put black instead of blue, it would be the flag of the terror group PLO (Palestinian Liberation Organization)," added King.
Arabic-only signs in the heart of Jerusalem, IDF Square Aryeh King Facebook page
Rabbi Ben Packer, a resident of the Old City reported seeing Municipality workers painting the signs, which he initially mistook for graffiti.
"I saw it and thought it was vandalism and then I saw city workers doing it! Someone has to explain this!" he said.
The Jerusalem Municipality responded to a query on its Facebook page regarding the controversial signs, writing that they were part of a campaign for road safety in which 103 crosswalks were painted in the city. The Municipality argued for the Arabic given that the campaign was meant for all populations.
However, the Municipality response did not address the fact that the sign appeared solely in Arabic and not in Hebrew as well, against the laws requiring the official language of Israel to be posted in all official signs.
Fighting for a Jewish presence in the Jewish capital
King has been working from within the Municipality to strengthen the Jewish presence in the capital city. Under his initiative a local bus line was expanded two weeks ago to provide transportation for Jewish residents in eastern Jerusalem's Abu Dis neighborhood.
The move supports Jewish families living in the Arab-majority neighborhood and encourages more Jewish residents to move in. While the Egged route will serve both Jewish and Arab residents of the city, Arab residents already can use Palestinian Authority-registered buses, which Jewish Israelis are unable to travel on.
Likewise, King last Wednesday inspected the sealing of an abandoned building in the Jerusalem neighborhood of Ein Karem, located in the southwest of the capital, that was broken into by local Arab squatters. The building, which is owned by the city, will be used as a municipal building according to King.
The Arabic signs at IDF Square Aryeh King Facebook page