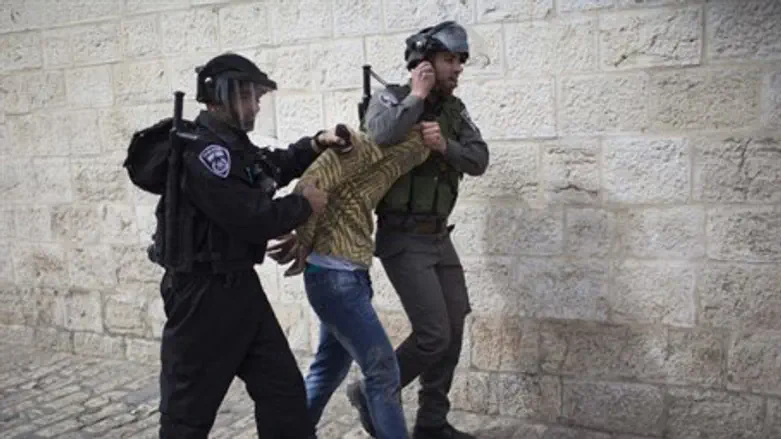 Arrests (illustration)
Flash 90
An Arab resident of Judea was arrested Sunday night, on suspicion of running a laboratory counterfeiting documents to cross security checkpoints into Israel.
The 40-year-old resident of Yatta, an Arab village near Hevron, was arrested by detectives from the Hevron district, together with Judea patrol police officers and border patrol forces, reports Walla!.
The police forces broke into the laboratory Sunday night, where they seized printing machines, laminating machines, stickers and seals.
The suspect is being investigated for fraud and forgery; additional arrests are expected to follow, hinting at a larger organized operation behind the laboratory.
Yatta has been a hotbed for terrorism for a long time now. In early March, four terror suspects were arrested in the town after being found with shotguns and hunting equipment, including a telescopic sight.
In 2002 during the massive terror war known as the Second Intifada, terrorists who murdered four Israelis fled to the village. The local Yesha Council responded to the incident by calling for the expulsion of Yatta residents, noting the town had been a breeding ground of terror for years.