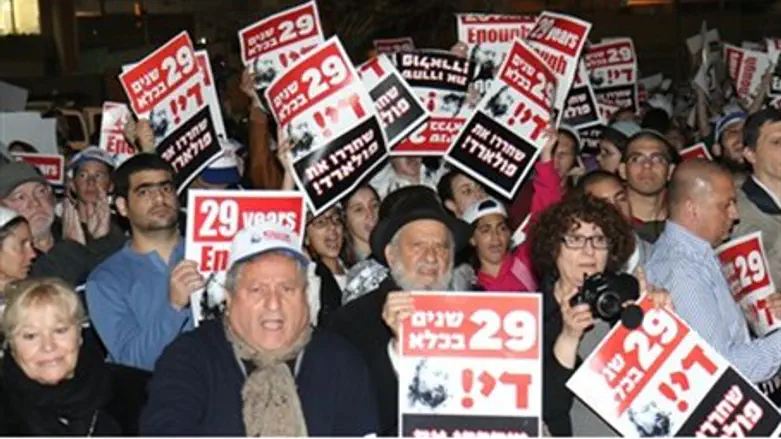 Protest for Jonathan Pollard's release (file)
Hillel Meir
Former CIA and NSA director Michael Hayden said this week that if Jonathan Pollard were to be released, it should be on humanitarian grounds and not as part of a deal that would see Israel freeing hundreds of terrorists from its prisons.
Hayden spoke to Newsmax amid reports that the U.S. had offered Israel to free Pollard in exchange for Israel releasing over 400 Arab terrorists and freezing construction in Judea and Samaria so that peace talks with the Palestinian Authority (PA) can continue.
"On so many levels, this just doesn't feel right. This is just weird. It looks like it smacks of desperation on the part of the United States and our secretary of state to do anything in order to keep this peace process alive. You know, that's a really unsettling fact," he said.
"One of the dangers when you get into negotiations with the Russians over Crimea and Ukraine, the Iranians over nuclear weapons, the Israelis and the Palestinians, you fear that your negotiators get so caught up in the negotiations that they'll do anything to keep the talks alive. That's what this seems to be," Hayden added.
He did, however, point to possible humanitarian grounds for Pollard's release.
"The man has spent a quarter-century in jail. He had a plea bargain between himself and the prosecutors that the judge threw out. He got a particularly harsh sentence. So if you've got a humanitarian question here, look at it in due time as a humanitarian question," said Hayden.
Unlike Hayden, former U.S. President Jimmy Carter said Friday that he would support freedom for Pollard if Israel would fully accept the deal.
"If the Israelis would agree to accept John Kerry's proposal, if Pollard was released, I would say yes [to supporting freedom for Pollard]," the former president said, according to Politico.
He added, however, "But I would make it an absolute swap and a certain thing, not just as a factor."
The deal that was proposed by the Americans was met with objection by a string of Israeli politicians.
Finance Committee chairman MK Nissan Slomiansky (Jewish Home) expressed disbelief at the deal and said, "This cannot be that the Americans call to release terrorists when they hold, on their land, a prisoner [Pollard] who is neither a murderer nor a terrorist. Releasing murderers breeds more terrorism, no sane country would releasing murderers to allow them to murder its citizens again."
Housing and Construction Minister Uri Ariel (Jewish Home) slammed the idea of a deal, especially in the context of reports that it would necessitate a building freeze in Judea and Samaria.
"This is a shameful deal, I would recommend to my fellow MKs not to approve this deal," he said.  "The Americans themselves do not conduct negotiations with murderers and terrorists and they want us to release such prisoners, this is a shame. I'm not just speaking about [President Barack] Obama abusing Pollard; [Pollard] has been there for 30 years."
Agriculture Minister Yair Shamir (Yisrael Beytenu) sharply criticized the United States over the idea, calling the deal "bribery and emotional blackmail."
He wondered why is it that Israel is being asked to pay a price simply for the sake of peace negotiations, stressing that the issue of Pollard is a separate one and is not related to releasing murderers.
Shamir further declared that he would vote against the deal if it is brought to a vote before the cabinet.
On Thursday, Abraham Foxman, National Director of the Anti-Defamation League (ADL), told MKs with whom he had met that he believed Pollard was still in jail because of anti-Semitism on the part of the Americans.
"The only explanation I have is that it borders on anti-Semitism," Foxman stated. "Today I have no rational explanation as to why he is still being held. "
Several top U.S. officials, including Former Deputy National Security adviser Elliott Abrams, US Assistant Secretary of Defense during the Jonathan Pollard affair Lawrence Korb, and former CIA chief James Woolsey, have also called for Pollard to be released. Former captive Gilad Shalit reiterated those calls in an emotional plea this week.