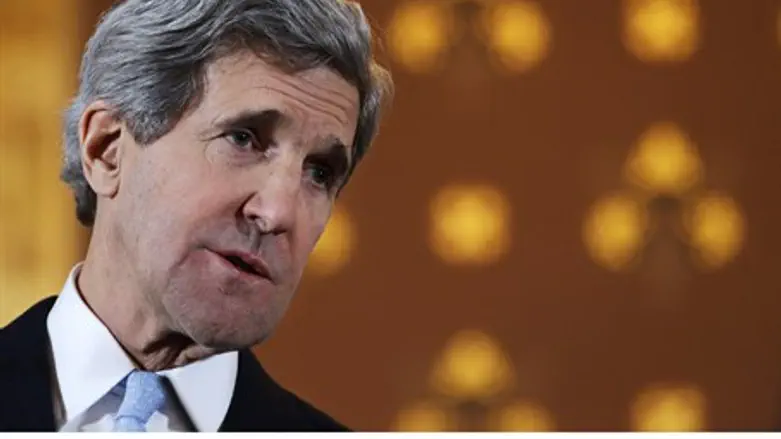 John Kerry
Reuters
US Secretary of State John Kerry said on Friday that it was time for a "reality check," reporting that he would "evaluate" his next steps regarding the peace talks between Israel and the Palestinian Authority (PA), which he began last July.
Kerry said he would be speaking with US President Barack Obama about the future of the talks, saying "I will be having conversations with the administration today, including the president, and we're going to evaluate exactly what is possible and what is not possible."
"There are limits to the amount of time and effort that the United States can spend if the parties themselves are unwilling to take constructive steps," added Kerry, according to AFP. Indeed, Kerry's dedication to the talks was called "obsessive and messianic" by Defense Minister Moshe Ya'alon in January.
"Both parties say they want to continue, neither party has said they want to call it off; but we're not going to sit there indefinitely, this is not an open-ended effort," remarked Kerry, noting the sizable number of international crises, such as in Ukraine and Syria, that also needed attention.
Talks have reached an essential dead-end this week after PA Chairman Mahmoud Abbas breached conditions by applying to 15 UN agencies on Tuesday. In response, Israel cancelled the final batch of terrorist releases, which was put on hold this Saturday given the lack of talk progress and wide opposition to the move. Israel further sanctioned the PA on Thursday.
Kerry admitted on Thursday that there was little he could do to save the talks, saying "you can facilitate, you can push, you can nudge, but the parties themselves have to make fundamental decisions to compromise."
Senior US officials close to Kerry said Friday that he may give up on the peace talks soon, warning he has to "go out and own the failure," or risk "looking desperate."
Meanwhile Dennis Ross, former senior Middle East adviser to Obama, said America "had a pretty significant investment in this, and to walk away from it before you determine for sure there is nothing else to be done, I'm not sure that's what you want to do at this moment."
Noting wider international policy mistakes, Ross added "it's not like we have a lot of good things going on internationally right now. When other things aren't going so well, this tends to look like just part of a piece."