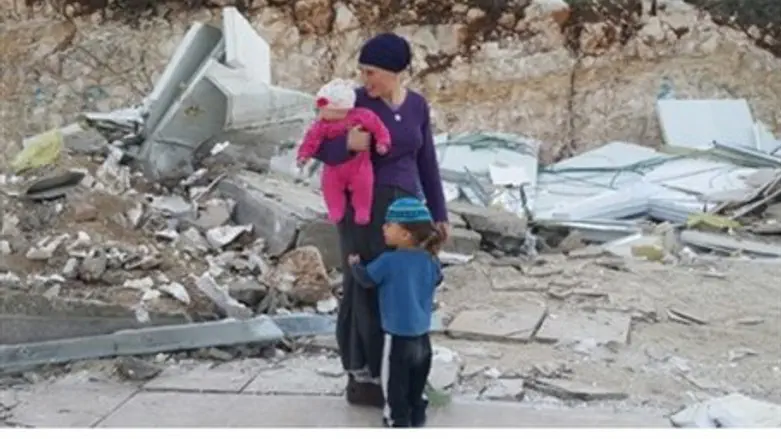 Shoshana Lazar
Yitzhar spokesman
The home of Shoshana Lazar, a resident of Yitzhar in Samaria and a teacher at the Lehava girls' academy at Kedumim, was demolished before dawn by the IDF Civil Administration, days before the family was to move in and dedicate the home.
"In a moment, everything was broken," she recalled in a conversation with Arutz Sheva. "We invited guests to the dedication on Sunday. I wanted us to have a place to lay down our heads for my children, and suddenly, before daybreak, we saw hundreds of police who had come to tear down the home." The dedication of a home – "hanukkat bayit" – is a traditional ceremony which usually combines a housewarming party with the affixing of mezuzot to the doorjambs, and the reciting of prayers.
Hundreds of police and military personnel took part in tearing down the Lazar home, as well as two other structures.
"Time and time again, the enforcement authorities purposely choose to step up enforcement on the Israeli side, and 'to forget' about the Palestinian side," said Gershon Mesika, who heads the Samaria Regional Council. "Not only that – in the end it turns out that this is not private land but survey land. Therefore, this is a crossing of a red line by the enforcement elements, which are conducting themselves in accordance with their own private policy, and not according to government policy."
"Survey land" is the name given to plots that have not yet been declared state land but that meet the criteria for state land.
"I call on the government to put matters in order," Mesika continued. "In is unacceptable that small children will pay the price for the chaos that exists in this field. It is not clear why these children's home had to be taken from them a moment before its dedication, before dawn, with the assistance of hundreds of police. This is unparalleled evil."
A senior source who deals with land in Judea and Samaria explained Wednesday that until today, the policy of the government and Civil Administration was not to tear down homes that stood on survey land. "Not only that," he said, "but there were calls by the heads of the Civilian Administration to the settlement enterprise, to tell settlers to move their homes to survey land, and to thus prevent their demolition by the police."