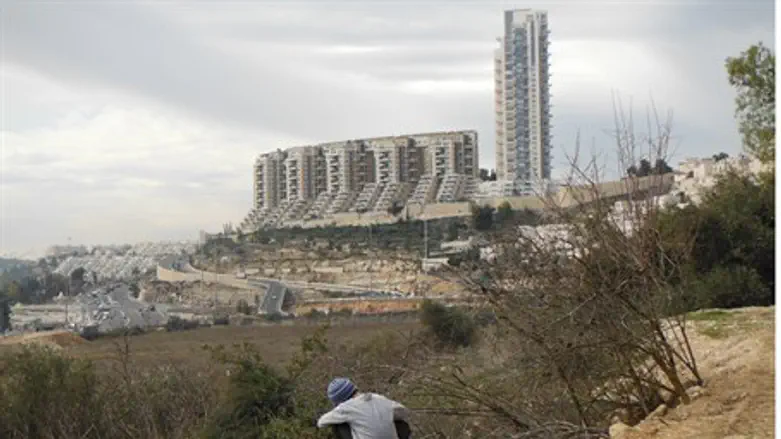 Holyland Apartment over Gazelle Valley Jerusa
Ben Bresky
David Kroyanker, an architect and a researcher of architecture in Jerusalem, told Arutz Sheva Wednesday that ever since the Holyland housing project was built, it was clear to people that there was "something sinister" behind it.
"Today we know what brought about this monster," he said. "As warly as the construction phases, it seemed there was something sinister about it that may one day be revealed, but no one thought about corruption at that point, or about [Ehud] Olmert. There was a feeling that something is going on."
Kroyanker explained that following the Holyland trial, it has become apparent why City Engineer Uri Sheetrit decided to approve the project. Sheetrit was convicted of taking 1.4 million shekels in bribe money from businessman Hillel Cherney, which he needed to cover his debts as a guarantor of his late brother's estate.
"Up to a certain point, the city engineer was adamantly opposed to the project, but at a certain point he changed his mind. We discovered the reason for that change of heart yesterday," Kroyanker said.
The architect and Jerusalem buff added that it is actually a good thing that the "monstrous towers" have been erected. "This is not a project that can be taken down. The quote-unquote 'greatness' of this project, is that it is one of the great monuments to corruption. It is a physical thing that will stand for the next 150 years – people will always point to it and tell its story. Olmert and company have immortalized themselves."
He estimates that we may witness a Pandora's box effect following the scandal. "It could awake additional demons," he opined. "In this field, many architects and public servants are afraid that someone will harm them. It is not easy to go to the police. If it were not for the state witness, Dachner, the Holyland scandal would not have been exposed. Maybe this will cause more people to take action."