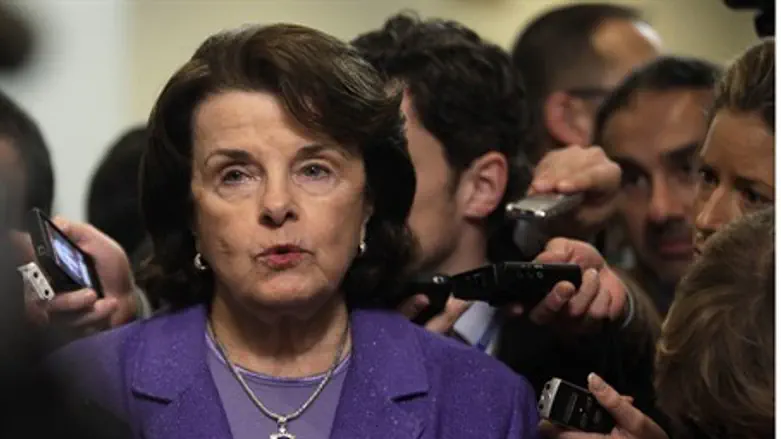 Senator Dianne Feinstein
Reuters
Several senior senators have come out with harsh opposition to the deal proposed Tuesday, by which America would release Jonathan Pollard in exchange for the release of over 400 Israeli-held Arab terrorists and a partial construction freeze in Judea, Samaria and Jerusalem.
Senate Intelligence Committee Chairwoman Dianne Feinstein (D-CA) and Vice Chairman Saxby Chambliss (R-GA) told The Daily Beast on Tuesday that they oppose the deal in no uncertain terms.
Chambliss opposed Pollard's release under any condition, saying "I think he's done a lot of harm to America and I just don't think he should be released." Pollard is now in his 29th year in an American jail for charges of spying for Israel, an American ally.
For her part, Feinstein said the release should not be carried out unless there is a breakthrough in peace talks between Israel and the Palestinian Authoriy (PA).
"This was a major betrayal and I've followed it over the years. It's one thing if there's an agreement. It's another thing totally if there isn't," Feinstein said. She added that she hasn't yet decided what legislative steps she may take to prevent the release, if it materializes.
Pollard bargain "is disgusting"
Other senators opposed the deal even though they favor Pollard's release. Former presidential candidate Senator John McCain (R-AZ) said Tuesday that Pollard should be released, but not as part of the peace talks.
"It's disgusting," McCain said of the offer. "I favor his release, I think he's served long enough, but to be used in this fashion, it's disgraceful."
McCain's statement complements the appraisal of the Anti-Defamation League, which slammed US President Barack Obama on Tuesday for using Pollard as a "bargaining chip."
Senator Chuck Schumer (D-NY) similarly panned the proposal on Tuesday, while saying of Pollard "I think he did a very bad thing. He deserved to serve some time in jail. The amount of time he served in jail is disproportionate."
Many former senior US security officials have called for Pollard's release, including former CIA Director James Woolsey, who called Pollard's ongoing incarceration anti-Semitic.
For his part, Pollard waived a parole hearing on Tuesday, reportedly in rejection of the proposal given his opposition to the release of Arab terrorists. Arch-terrorist Marwan Barghouti is reportedly among the more than 400 Arab terrorists requested for release in exchange for Pollard.