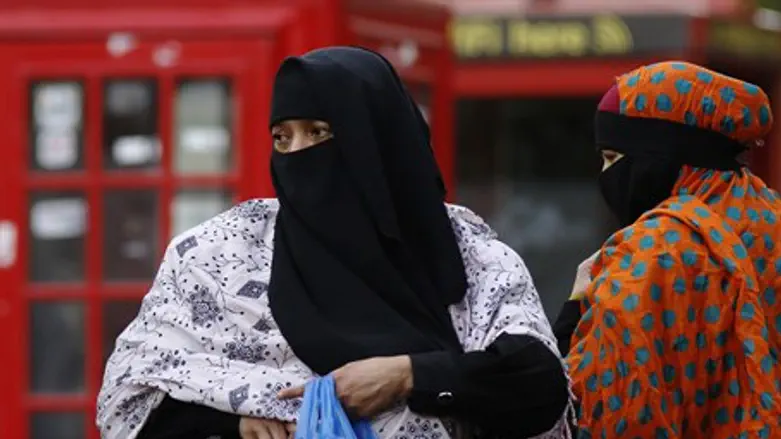 Muslim women (illustrative)
Reuters
Lebanon's parliament on Tuesday passed a law making domestic violence a criminal offense, reported AFP.
The move comes after a years-long campaign by civil society groups in a sectarian Arab country steeped in conservativism.
Large sectors of Lebanese society have traditionally regarded beatings of women and children as religiously and socially acceptable.
New York-based Human Rights Watch described the bill as "historic," but pointed to gaps which did not ensure full protection for women.
For its part, leading Lebanese women's rights organization Kafa was critical of the law in its current form.
The law fails to specifically enshrine protection for women, said Kafa, adding that the law used religious terminology in place of rights-based terms.
Ghassan Mkhayber, an MP who played a key role in lobbying for the law, told AFP, "It is a big step forward in protecting women, we should be proud. We now have a law that provides effective protection for women..."
"It's not the ideal text, but it's a first step," Mkhayber said, while stressing that the law must now be enforced.
The new law was passed just days after a Lebanese judge handed down a death sentence to a man accused of beating his wife to death with a pressure cooker, in an unprecedented verdict that was hailed as a breakthrough in Lebanon's struggle with domestic violence.
Mohammed Adnan al-Nhaily was accused of premeditated murder in "violently and viciously" beating his 34-year-old schoolteacher wife Manal Assi to death on February 8.
AFP noted that the law passed after a Kafa-led campaign which saw thousands of demonstrators take to the streets of Beirut on March 8, International Women's Day.
The demonstration came after several women died allegedly from beatings by their husbands.
Women's rights has been a weak point in the Arab world; a report last November found Egypt to be the worst women's rights abuser in the Arab world. A UN report in April found that 99.3% of Egyptian women and girls had been sexually harassed.
Another Arab country notorious for its violations of human rights and specifically those of women is Saudi Arabia.
The kingdom employs religious police whose job is to enforce Islamic Sharia law, and women are forbidden from driving in the kingdom.
Even the Saudi king has been accused of violating the rights of his own daughters, as allegations recently submitted to the UN human rights office claimed that several of his daughters have been held for the past 13 years in the royal compound in Jeddah.