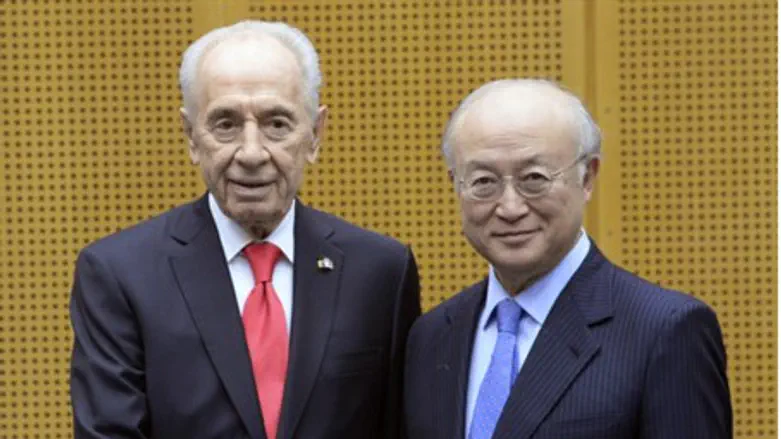 Peres and Amano in Vienna
Flash 90
President Shimon Peres warned on Monday that a nuclear armed Iran could lead to "another Hiroshima".
The comments were made during Peres's meeting in Vienna with the head of the International Atomic Energy Agency (IAEA), Yukiya Amano.
"It's time to put the facts on the table and realize that nuclear weapons by the Iranian leadership would be a danger to all humanity," Peres said.
"The implementation of the agreements between the IAEA and Iran are advancing slowly," he continued. "Iran is trying to gain time and does not comply with the requirements. This has a negative impact on the diplomatic track. Iran continues to enrich uranium and retain the ability to develop nuclear weapons. Additionally, Iran is developing long-range missiles capable of carrying their nuclear warheads."
"When it comes to building trust," added Peres, "actions are important and not words. The IAEA has a mandate to fully ascertain the facts and illuminate the truth about Iran's actions. Israel has full confidence in your ability to meet the important task fairly and benefit the world."
Peres suggested that "Iran be judged by its record and not by its words and sounds. No one threatens Iran, yet Iran again and again threatens other countries. We do not want to see another Hiroshima."
Amano, for his part, told Peres, "The international community needs to address some issues including the Iranian nuclear program. Israel is an important partner of the International Atomic Energy Agency."
Under an interim agreement signed between Iran and the West in November, Iran committed to limit its uranium enrichment to five percent, halting production of 20 percent-enriched uranium. In return, the European Union and the United States have eased crippling economic sanctions on Iran.
In return, Iran is gradually winning access to $4.2 billion of its oil revenues frozen abroad and some other sanctions relief. The funds will be paid out in eight transfers on a schedule that started with a $550 million payment by Japan on February 1.
Iran and the six powers - the United States, Russia, China, Britain, France and Germany - want to turn the November deal into a lasting accord by July.
The IAEA has been holding regular inspections of Iran's nuclear facilities. Several weeks ago, the atomic agency said that so far, Iran is complying with the agreement and sticking to the partial nuclear freeze to which it agreed.
At the same time, Amano several weeks ago said that  while Iran is reducing its most proliferation-prone nuclear stockpile as required by the deal, much work remains to be done to resolve all concerns about Tehran's activities.