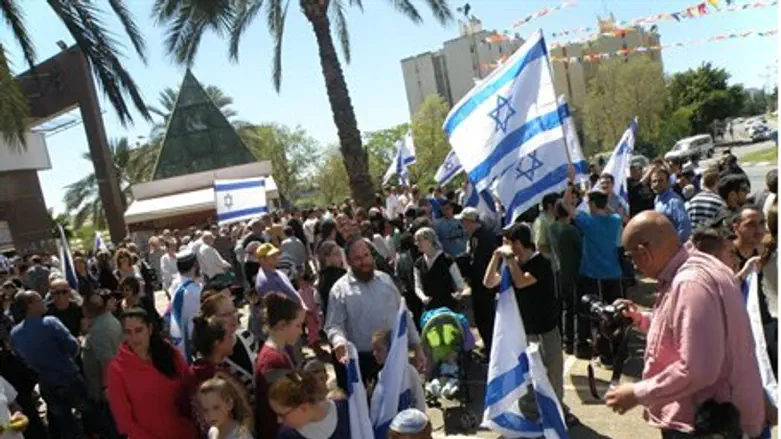 Jewish counter-protest in Karmoel
Karmiel Hesder Yeshiva
Karmiel, according to Arab residents of the Galilee, is "occupied territory." Last Friday, about 200 Galilee Arabs demonstrated in the town as part of "Land Day," an Arab protest against government land expropriation. Hundreds of Arabs from Galilee villages are expected took part in the demonstration in the center of the predominantly Jewish town, waving Palestinian flags and calling for the removal of Jews from "Arab land."
The protest was met with a counter-protest – by students from the local Hesder yeshiva, who set up their own demonstration opposite that of the Arab groups' and shouted their support of Karmiel as a legitimately-built Jewish city.
Speaking to Arutz Sheva, Rabbi Yaakov Yedid, head of the yeshiva, said that the Arab protest was "shocking. The residents were shocked that Arabs could come here and question the legitimacy of Karmiel as a Jewish town." That shock led supporters of the Likud and Jewish Home parties in the town to join forces with the yeshiva and protest the Arab demonstration.
Rabbi Yedid said that this was not the first time Arabs had brought up this claim. Karmiel, in the Western Galilee, was established in 1964 near the main road between Akko and Tzefat on land that was largely unused, as it was unfit for agriculture. A Bedouin village that was located on part of Karmiel's land was removed, with residents receiving large payments for the property, Rabbi Yedid said. Depsite their receiving full compensation, Arab politicans like Hanin Zouabi insisted on using the Bedouin village as a symbol of "Israeli expropriation of Arab land."
Both groups on Friday protested in the center of Karmiel, right across the street from each other. No incidents were reported, although Rabbi Yedid said there were several "incidents" after the police ended the separation after the protests. Several other similar protests by Arabs have been held in the city, Rabbi Yedid said.
The atmosphere in the town has been uncomfortable recently, said Rabbi Yedid, because of the increasing presence of Arab settlers on the streets of Karmiel, and the ongoing claims that the city is Arab. In addition, there is an increasing number of Arabs who have rented apartments in the town. "The Arabs are willing to show their anti-Israel signs in this city," said Rabbi Yedid. "We aim to protect Karmiel and keep it a Jewish city."