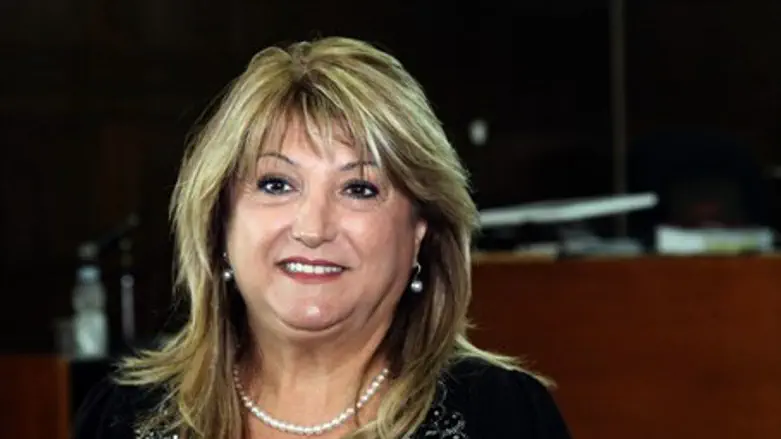 Shula Zaken (file)
Flash 90
During the proceedings Monday morning, in which former Prime Minister Ehud Olmert was convicted of corruption charges along with nine associates, Tel Aviv District Court Judge David Rosen rejected an appeal for a more lenient sentence for Olmert's former bureau chief Shula Zaken, clarifying after reading the verdict that he would request serious arguments before approving a lightened sentencing.
Referring to Zaken, Rosen remarked: "this is not a junior clerk or someone who was enticed - this is a central figure, a figure that took hundreds of thousands for herself, and I'm not sure that always happened to the knowledge of (Olmert)."
"There were things she took for herself, as an independent source," noted Rosen. "I will want to know exactly why you're requesting what you're requesting," he added to the lawyers, speaking about the request for a lightened sentence.
Zaken reportedly held incriminating evidence against Olmert, although earlier prosecutors decided her evidence was not necessary, and therefore did not accept her plea bargain.
Rosen added that "I imagine that you knew that (Zaken's) silence doesn't come only from her thinking that they're pursuing a prime minister in Israel; you didn't fall out of your chairs when she came and told you why she is silent, and also not when she testified as she did in the trial."
"If this is a case of 'cleaning out the closet,' I will certainly be attentive. If not, you will need to make efforts and do everything you're capable of in order for me to agree to receive your request to ease her punishment," remarked the judge. 
Rosen noted that he hadn't expressed his own opinion yet, and demanded a much wider and more extensive detailing of the arguments than was presented in the request.
The judge denied a request by some of the defense attorneys to defer the discussion of pleas by 45 days at least. Rosen commented that he intended to set the plea discussions for next week, but eventually reconciled with holding them a month later, after the Passover holiday.