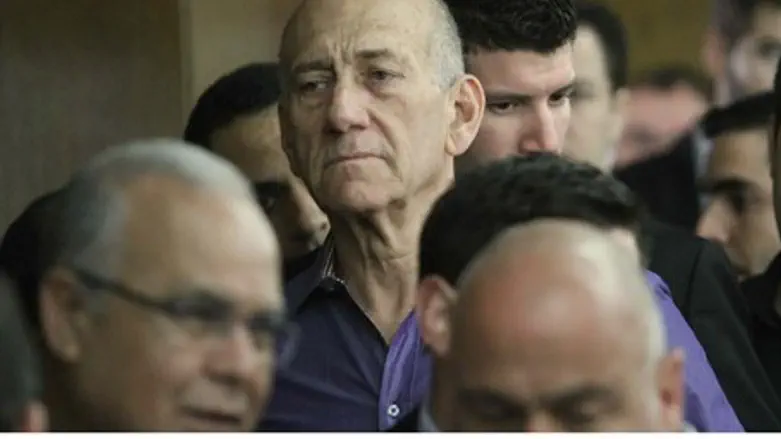 Former Prime Minister Ehud Olmert at the Tel
Flash 90
The conviction of former Prime Minister Ehud Olmert and nine of his associates over corruption charges this morning may not have surprised many people in Israel - Olmert's record was far from squeaky-clean, and a previous, albeit more minor corruption conviction in 2012 was seen by many even then as merely revealing the tip of the iceberg; but the first-ever conviction of a former Israel Prime Minister has nevertheless reverberated throughout the country.
The immediate responses focused on how the unprecedented conviction offered hope that Israel was beginning to tackle a political culture stained by corruption.
Judge David Rosen, who handed out the convictions - as well as three acquittals - at the Tel Aviv court slammed the "corrupt political system which has decayed over the years... and in which hundreds of thousands of shekels were transferred to elected officials".    
"We're talking about corrupt and filthy practices," he summed up, as he read out the verdict.
Rosen also said the former premier had lied to the court in a bid to "blacken the name" of the state's witness.  
Anti-corruption watchdog the Movement for Quality of Government echoed those sentiments to Arutz Sheva, describing the convictions as "a sad day mixed with some hope for a cleaner future... This is a resounding wake-up call to those responsible for the fight against filth and corruption."
But legal expert Ilan Bambech cautioned that far from being a cause for celebration, the convictions pose serious questions about institutionalized corruption in the Israeli political system.
"We are talking about a very difficult and worrying verdict" which exposed "the connection between money and power" in the system, the attorney told Arutz Sheva.
"This phenomenon should worry everyone... Anyone who cares about the rule of law should be losing sleep over this."
Nevertheless, the conviction had ensured that "for the next few years at least, neither Olmert, nor anyone with any connection to him, will be able to return to the political field."
And Olmert's former bureau chief Shula Zaken could yet face further charges, he suggested, since the "Holyland" case had managed to dig up many more questions over her conduct beyond those crimes she has already been found guilty of.
Perhaps unsurprisingly, others took the chance to attack Olmert's political legacy. The ex-PM and one-time Likudnik helped found the Kadima party which was established as a vehicle to carry out the infamous Disengagement Plan in 2005 - later heading the party himself - and is a staunch proponent of large-scale Israeli concessions to the Palestinian Authority.
Prominent academic and former MK Arieh Eldad, who heads the Professors For a Strong Israel group, took to Facebook to sum up the conclusion of the two-year corruption case.
"Israel's leading corrupt official, Ehud Olmert, has been found guilty of accepting bribes," Eldad announced. "Of course, it is impossible to be so surprised. For surely one who is prepared to sell the Land of Israel to the Arabs - for him it is easy to sell Jerusalem to corrupt building contractors." 
Right-wing attorney Itamar Ben-Gvir similarly went on the offensive, describing the verdict as "Divine punishment" for a man who helped carry out the expulsion of Jews from Gaza in 2005. 
"It is true that we are not God's accountants and we don't pretend to have a record of all the [Divine] reward and punishment in this world, but it is hard to ignore the fact that, like a house of cards, all the criminals of Gush Katif are being punished, and he who planned to uproot Jews and benefit from it (Ehud Olmert and his friends!) will now, as we can see, have to sit in prison, and undertake some deep introspection on the wrongs and crimes he committed."