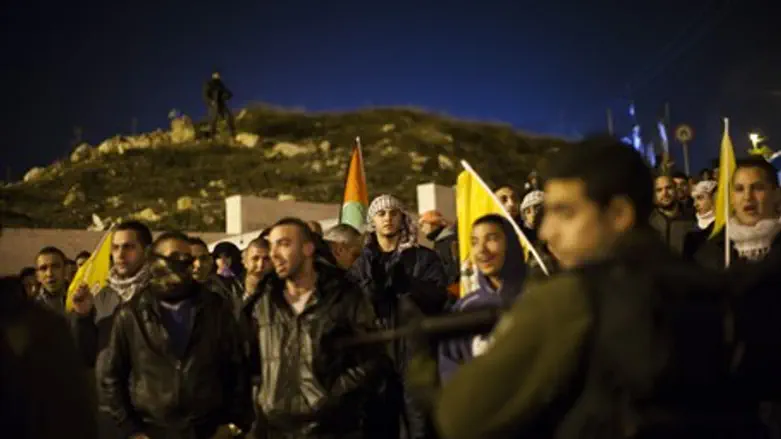 PA celebrates terrorist release
Flash 90
Israel releasing terrorists would be "good for the morale", a senior official with the Palestinian Authority (PA) said on Friday.
The official, Fatah member Ashraf al-Ajrami, made the comments during a meeting with dozens of members of the Likud Central Committee, who were participating in a weekend seminar organized by the Geneva Initiative.
Al-Ajrami is an active member of the Geneva Initiative and also spent 12 years in Israeli prisons for terror activities.
"Releasing prisoners brings good atmosphere to the Palestinian street. Preventing the release of the fourth batch will be a sign that Israel does not want to continue negotiating and would prefer wasting time," he claimed.
Regarding the possible release of Arab-Israeli terrorists as part of the fourth batch, Al-Ajrami said, "The Arab-Israeli prisoners were detained before the Oslo Accords, before there were talks between Israel and the PLO. Israel has a moral obligation to release these prisoners, regardless of current negotiations."
Last July, Al-Ajrami visited the Knesset as a guest of left-wing MKs, where he threatened Israel with "a very crude war" with many casualties if there is no "diplomatic process."
On Saturday, the Likud members met with Hisham Abdel Razek, another Fatah official, who has in the past served as the PA's Minister for Prisoner Affairs and who served 21 years in an Israeli jail on charges of terrorism.
Abdel Razek said, "I believe that in the end we will find the solution, with the help of the U.S., that will allow the release of the prisoners. The release of prisoners must happen in order to continue the negotiations toward a final settlement."
Both men were speaking in the wake of reports that Israel had informed the PA that it will not release the fourth batch of terrorists that it had promised to release as "gesture" to the PA.
Fatah official Hazem Abu Shanab reacted angrily to the report, saying that Israel would regret its decision not to go through with the release of the fourth batch.
He added that the international community will be inclined to hold Israel responsible for hindering the peace process.
"The release of prisoners is a legitimate, lawful, and human right. Their freedom should not be linked to concessions regarding extending or continuing the diplomatic process," Abu Shanab told the Ma'an news agency.