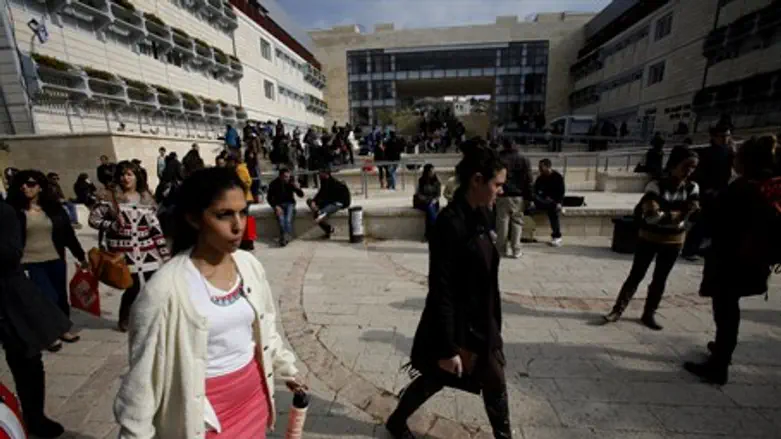 Ariel University campus (file)
Flash 90
Ariel University, located in Samaria and "boycotted" according to EU guidelines for being over the 1949 Armistice line, has started a new initiative: a prayer room for Muslim Arab students.
Several other Israeli universities already have a Muslim prayer room, but none suffers the same stigmatism as Ariel University for being a "settler" institution. The new room was initiated due to the requests of several Muslim students of the university, Yedioth Ahronoth reported Friday.
"Every person who believes, and it doesn't matter what religion they are, needs a place to pray," remarked one of the Arab students. Under the new move, a classroom will be allocated for pray use at times of need, and Muslim students will further receive prayer mats and additional equipment.
Roughly 600 Arab students are enrolled at the Samaria-based university, which has sustained that number since at least 2011. The Arab students make up roughly a fifth of the student body. Nevertheless, MK Ahmed Tibi (Raam-Taal) refused interviews with students of the university's communications department last November, calling them a "settler station."
An Arab student who led the initiative stated "we obligated ourselves not to hold any political activity in the prayer room. We really don't intend to hold political activities or incitement of any kind. ...If we wanted to incite, we would have done that a long time ago."
Ariel University's chancellor in 2012 emphasized only students loyal to Israel were accepted, noting that every student, Jew or Arab, is required to take a course in Judaism, Zionism or Israel each semester.
"If the university opposed the process, it would have harmed the principle of equality, and we could have even taken it to the Supreme Court," noted an Arab student. "We were glad that our request was received immediately and we were told that the process is underway."
Keeping a tight lid on the plans
Ariel University management declined to speak about the prayer room for the time being, given as the plan has not gone into action yet. One source noted the university is keeping a tight lid on the initiative to keep it from being torpedoed before it gets off the ground.
The university has held large international academic conferences, including one earlier this month, casting doubts on the talk of a European academic boycott.
Czech Ambassador Tomas Pojar visited the institute in January despite the EU protocols, becoming the first EU member state ambassador to visit.
Pojar expressed particular interest in the joint research conducted with and for the benefit of Arab residents of Samaria, and was interested to learn that hundreds of Arab students attend the institution.