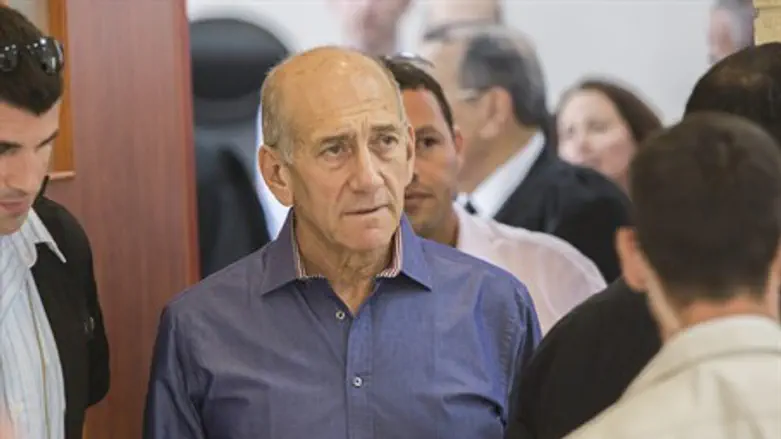 Ehud Olmert
Yonatan Zindel
It was cleared for publication on Thursday evening that police have launched a new investigation against former Prime Minister Ehud Olmert, following new evidence turned in by his former bureau chief, Shula Zaken.
Olmert is being investigated on suspicion of obstruction of justice and witness tampering. A gag order remains in effect on the exact details of the investigation as well as on the contents of the audio recording that Zaken had given to the police during her interrogation on Wednesday.
Earlier Thursday, Zaken's lawyers and the prosecution reached an agreement on a plea bargain for the former close aide to Olmert. As part of the plea bargain, in exchange for Zaken turning state's evidence she will serve a reduced 11-month prison sentence and the prosecution will cancel the appeals against her in the Talansky affair and the Rishon Tours affair.
In the meantime, in light of the new evidence, the prosecution has asked the court to postpone the reading of the verdict in the Holyland trial, which is scheduled for Monday.
The prosecution has also asked that Olmert be questioned over the new allegations.
The turn of events comes just a few weeks after the prosecution decided not to sign a plea bargain with Zaken. That decision came after Zaken gave a new testimony to the police, but prosecutors came to the conclusion that the new evidence she provided was not enough to assist their case against Olmert.
Zaken was long thought to have known much more about Olmert than she was willing to reveal, and had remained loyal to her former boss for years. Lately, however, she has changed her attitude towards Olmert, after the former Prime Minister testified against her and after one of his lawyers spoke out against her in a television interview.
Zaken's lawyers on Thursday evening welcomed the prosecution's decision and said, "We thank the prosecution for its endurance during this complex negotiating process. We think it takes a lot of courage on their part to reach this agreement, which is not a simple one."
Olmert's spokesperson, Amir Dan, blasted the plea bargain with Zaken and said that the signing of such a deal just days before the Holyland verdict is to be read out is a real example of obstruction of justice.
"The prosecution's fear of the results of the Holyland trial caused it to be drawn into a scandalous deal with a defendant who admitted taking bribes. We reiterate in the clearest way that Olmert has not disrupted the legal proceedings in any way," he said.