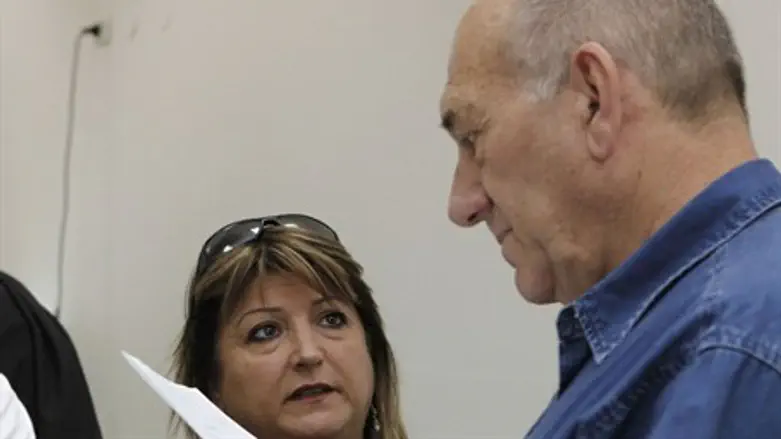 Ehud Olmert and Shula Zaken
Flash 90
Shula Zaken, who served as former Prime Minister Ehud Olmert's bureau chief, has reportedly presented new evidence implicating Olmert of obstruction of justice in the Holyland affair.
Channel 2 News reported on Wednesday evening that Zaken had been interrogated by police for more than six hours and had presented substantial proof of her claims against Olmert, in the form of an audio recording.
The new evidence is being presented just a few weeks after the prosecution decided not to sign a plea bargain with Zaken. That decision came after Zaken gave a new testimony to the police, but prosecutors came to the conclusion that the new evidence she provided was not enough to assist their case against Olmert.
The audio recording is the most substantial evidence that has now been presented and would require that Olmert be interrogated again. However, the decision on whether to accept the new evidence is now up to the judge presiding over the case, and he has already announced that the verdict will be read next Monday.
Zaken is long thought to have known much more about Olmert than she was willing to reveal, and has remained loyal to her former boss through both the Talansky affair and the Rishon Tours affair, in which ultimately she was punished, while Olmert was found not guilty.
Lately, however, she has changed her attitude towards Olmert, after the former Prime Minister testified against her. One report said that Zaken underwent a "hatarat nedarim" ceremony in synagogue in which her vow to her father that she would not testify against Olmert was rendered null and void.
Olmert's lawyers, meanwhile, blasted on Wednesday the police and the prosecution over what they claimed were leaks to the media that were "contaminating the legal process."