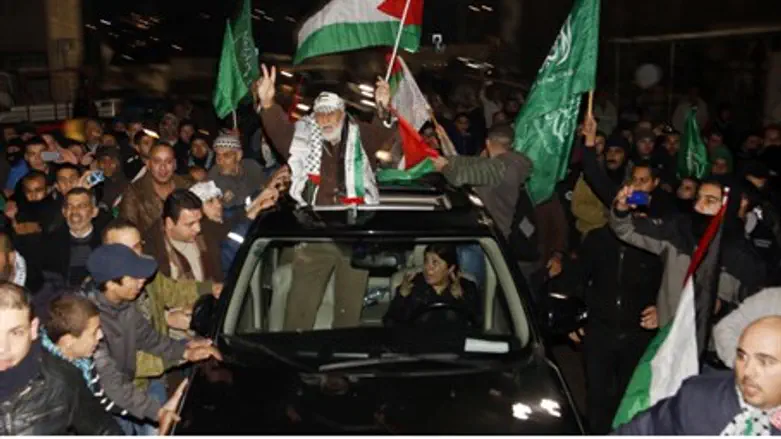 Released terrorist feted in Shuafat (file)
Flash 90
Arab residents of Jerusalem petitioned the Supreme Court on Tuesday, claiming that negligence on the part of local authorities has led to a three-week water shortage in the Arab-majority neighborhood of Shuafat, located in the capital's north.
The petition, which was filed with the aid of the controversial NGO Association for Civil Rights in Israel (ACRI), claims many homes in the Arab neighborhood have "either no water at all, or water pressure so weak that it stops periodically," reports AFP.
In response, Jerusalem-water supplier Hagihon released a statement arguing security concerns have prevented maintenance in the area.
"Security problems (including employees needing to have a police escort) and frequent attacks against infrastructure," such as illegal syphoning of water from points along the water mains, were highlighted in Hagihon's statement.
Arab residents of Shuafat have been responsible for numerous attacks. An Arab mob hurled firebombs at a fortified police position in the neighborhood in 2012 and began banging on its windows, trapping and setting on fire an officer who was left with burn wounds.
In another incident in 2011, residents targeted border patrol officers one Sunday afternoon, leaving no injuries but damaging military vehicles. There similarly has been an ongoing trend of rock attacks against the light rail train as it passes through the neighborhood.
ACRI criticized the authorities for only maintaining a water infrastructure in Shuafat capable of supporting 15,000 people, given that an estimated 60,000 to 80,000 currently dwell in the neighborhood.
However, there has been a long-documented history of massive illegal Arab construction in the neighborhood, making the supply of water a complicated issue.
Nevertheless, ACRI and the petitioners "demand that the responsible authorities (including) the Jerusalem municipality, take all necessary action to ensure that (Jerusalem's water supplier) Hagihon supplies running water to all the homes in the area."