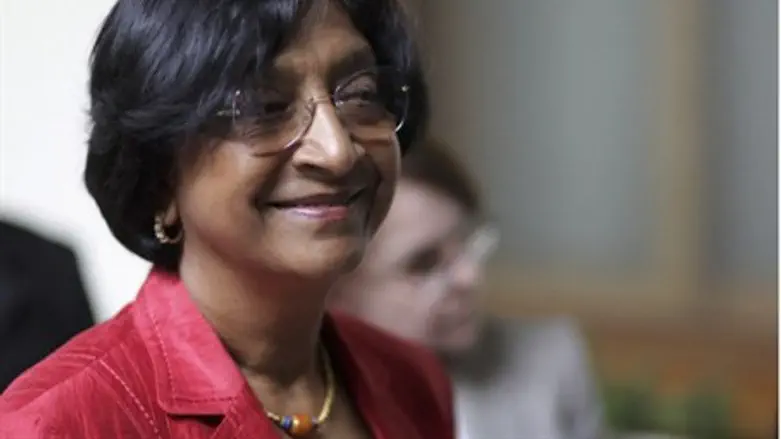 Navi Pillay, UN High Commissioner for Human R
Reuters
The United Nations Human Rights High Commissioner claimed on Monday to have found the source of the trouble in Judea, Samaria and Gaza. The problem, according to Navi Pillay, is Israel.
Reuters quoted Pillay as having said that Israel's construction of Jewish homes in Judea and Samaria, as well as "attacks by settlers on Palestinians" are a major source of much abuse of rights in the region.
"Israeli settlement-related activities and settler violence are at the core of many of the violations of human rights in the West Bank, including East Jerusalem," Pillay told the UN's 47-nation Human Rights Council in Geneva, according to Reuters.
She added that the "settlements" and the activities around them "also violate the entire spectrum of Palestinians' social, cultural, civil and political rights."
"Despite repeated calls for Israel to cease settlement activity, ongoing settlement construction and acts of settler violence continue with devastating consequences for Palestinian civilians," said Pillay.
She also claimed that Israel was partly responsible for the escalation in violence in Gaza, because of its airstrikes on terror targets in retaliation for rocket attacks on southern Israel.
According to Pillay, "The targeting of civilians and the indiscriminate firing of rockets towards Israel is a violation of international law. The response through air strikes by Israel is excessive and often causes destruction to personal and public property."
There was no condemnation in her remarks for the rock attacks being perpetrated on a daily basis by Palestinian Arabs against residents of Judea, Samaria, and eastern Jerusalem.
Arutz Sheva has reported on many occasions about rock attacks targeting Jews in Jerusalem, Judea and Samaria and other areas of Israel.
Rock attacks can be lethal, as was the case in an attack in September of 2011 which targeted Asher Palmer and his infant son Yonatan. The two were killed when an Arab terrorist hurled large rocks at their car.
Pillay's remarks come just several days after Richard Falk, the UN's "human rights expert" who probes Israel's conduct towards Palestinian Arabs, accused the Jewish state of a campaign of ethnic cleansing and apartheid policies.
"The realities on the ground are worsening from the point of view of both international law and from the point of view of the Palestinian people," Falk told reporters.
Since he was appointed in 2008, he claimed, Israel has built more Jewish communities in Judea and Samaria, imposed "collective punishment" on Gaza, demolished homes and repeatedly deployed "excessive force."
Falk accused Israel of a "systematic and continued effort to change the ethnic composition of East Jerusalem" by voiding Palestinian Aras' residence permits, confiscating property and allowing "unlawful Israeli settlements" there.
The accusations leveled by the UN against Israel are nothing new, as the global body has condemned Israel countless times over the years.
In late November a UN interpreter, unaware that her microphone was on, was caught criticizing the excessive attacks on Israel.
The interpreter commented "I mean, I think when you have five statements, not five, like a total of ten resolutions on Israel and Palestine, there's gotta be something, c'est un peu trop, non? [It's a bit much, no?] I mean I know... There's other really bad stuff happening [around the world], but no one says anything, about the other stuff."
Last August, UN Secretary General Ban Ki-moon admitted that the organization he heads is biased against Israel. Later, however, he backtracked on those remarks.