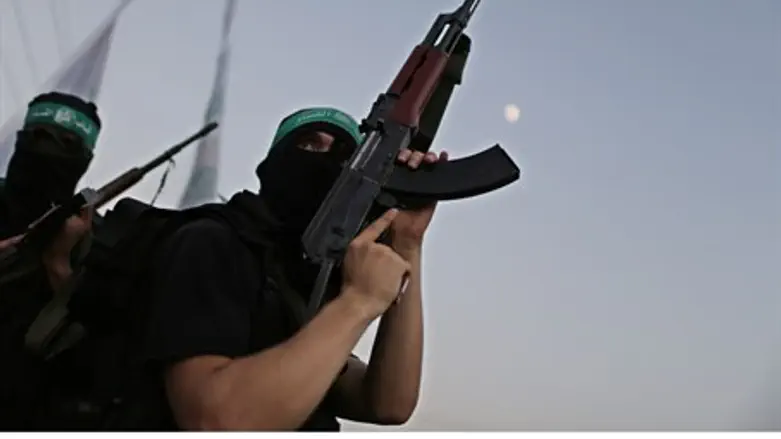 Terrorists (file)
Flash 90
The Hamas terrorist rulers of Gaza have admitted that they are assisting other terrorist organizations operating in the region.
Fathi Hamad, Hamas's interior minister, revealed in an interview with Hamas's Al-Aqsa television, which aired Sunday, that Hamas supports the "resistance" by maintaining and strengthening the internal front, both in times of calm and escalation.
Hamad added that the government in Gaza provides support to the "resistance" and cracks down on Gazans who act as agents and informants of Israel.
He also had a message for the Egyptians, whom he accused of taking an active part in imposing a blockade on Gaza. The military-led government in Egypt has cracked down on Hamas, which it accuses of planning and carrying out terror attacks, by closing the Rafiah border crossing and essentially imposing a siege on Gaza.
Hamad said that the parties taking part in imposing a blockade on Gaza should end it and support the "resistance."
Ultimately, he said, the blockade will end because "the Palestinians are a nation that loves martyrdom in the way of Allah and will never give up its fundamental principles."
The Ramallah-based Palestinian Authority, a longtime rival of Hamas, was also not immune from criticism, as Hamad accused it of collaborating with Israel and described this collaboration as "a mark of disgrace."
Referring to Saturday's incident, when the IDF raided Jenin and killed two Hamas terrorists, Hamad suggested that the PA had cooperated with Israel on this.
"When the enemy's vehicles came to Jenin and killed the children of Palestine, where were the security forces? And where was their weapon?" he wondered.