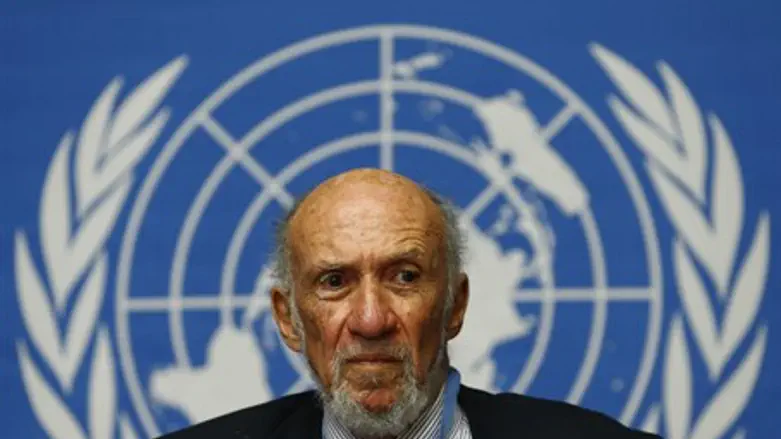 Richard Falk addresses a news conference on M
Reuters
Days before he is to step down from his position, Richard Falk, the UN's "human rights expert" who probes Israel's conduct towards Palestinian Arabs, on Friday accused the Jewish state of a campaign of ethnic cleansing and apartheid policies.
"The realities on the ground are worsening from the point of view of both international law and from the point of view of the Palestinian people," Falk told reporters, according to AFP.
Since he was appointed in 2008, he claimed, Israel has built more Jewish communities in Judea and Samaria, imposed "collective punishment" on Gaza, demolished homes and repeatedly deployed "excessive force."
Falk accused Israel of a "systematic and continued effort to change the ethnic composition of East Jerusalem" by voiding Palestinian Aras' residence permits, confiscating property and allowing "unlawful Israeli settlements" there.
"This is systematic discrimination on the basis of ethnic identity, with the objective of creating a different demographic in Jerusalem," he said, according to AFP, calling it a form of "ethnic cleansing."
"All of these features that are objectionable from the point of view of international law have continued and intensified during my six years," claimed Falk.
"What is called occupation is now more widely understood to be a form of annexation, the embodiment of apartheid in the sense that there's a discriminatory dual system of law, giving legal protection to the Israeli settlers and subjecting the Palestinian population under occupation to a continuing existence without rights," he charged.
Excerpts from Falk's final report to the UN Human Rights Council published by Reuters last month made the same accusations towards Israel that he made in his news conference on Friday.
In the report, Falk accuses Israel of a "systematic oppression of the Palestinian people and de facto expropriation of their land".
He also suggests that UN member states should consider imposing a ban on imports of produce from Jewish communities in Judea and Samaria.
Falk has a history of anti-Israel statements, and has in the past compared Israelis to Nazis. He also criticized Israel for keeping an Islamic Jihad terrorist in custody, even after a video of him pleading for suicide bombers to "carry the next explosive belt" was exposed.
Last year, Falk publicly called on the UN to investigate and potentially expel the UN Watch watchdog organization, after it mobilized world leaders to condemn his comments blaming the Boston Marathon bombings on "the American global domination project" and "Tel Aviv."
He has repeatedly locked horns with Israel, the United States, Canada and some human rights groups over his anti-Israel positions.
Washington has said he should quit his UN role, which like other rights monitors at the world body he holds on an unpaid, voluntary basis.
Falk consistently rejected calls on him to resign, claiming his opponents were trying to silence his criticism of the Jewish state by labelling him as an anti-Semitic.
On Friday, he once again brushed off the criticism.
"Anyone who is 10 percent objective would come to similar conclusions about international law and international morality to the conclusions I've reached on the main issues that are in contention," he claimed, according to AFP.
(Arutz Sheva's North American Desk is keeping you updated until the start of Shabbat in New York. The time posted automatically on all Arutz Sheva articles, however, is Israeli time.)