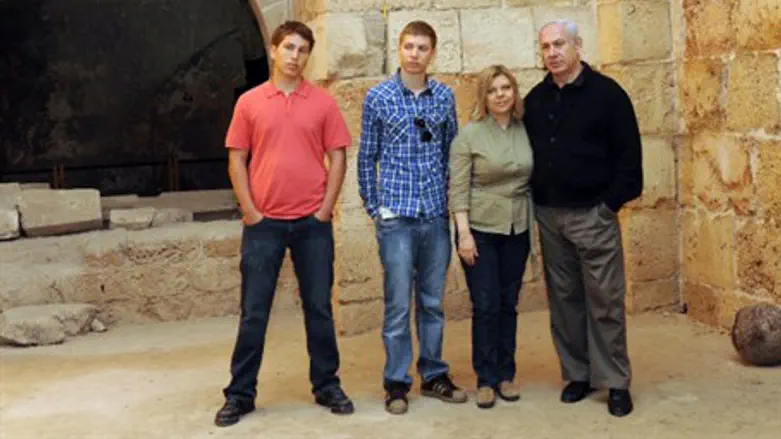 The Netanyahu family (file)
Flash 90
The ugly legal battle between the family of Prime Minister Binyamin Netanyahu and former housekeeper Manny Naftali continues, Channel 2 reports Wednesday, after Naftali has filed a suit in the Jerusalem Labor Court asking for one million shekel ($288,834) from the Netanyahus. 
Naftali claimed in the suit that he was employed under poor work conditions, that the prime minister did not meet the obligations due to his employees under contract, and that he had not received compensation for work hours and overtime.
Much of the letter also makes claims about "what is really happening" in the Netanyahu home, however. 
"During the 20 months that Mr. Naftali was employed at the Prime Minister's residence, 29 employees finished their employment there - and not on good terms," the suit claims. "It became clear that the major, significant source of the bleak atmosphere at the prime minister's residence is the reckless behavior of Mrs. Netanyahu, who makes demands on the employees for personal services day and night, and disparages employees who do not meet her expectations." 
The letter explains that Sara Netanyahu allegedly caused friction between Naftali and the Prime Minister, when she demanded that the household budget be used for expenses in one area, whereas Binyamin Netanyahu had allotted it for another.
One allegation includes a demand to buy candles for thousands of shekels, using money from the food budget. Another claims that Mrs. Netanyahu woke the housekeeper at 3 am to yell at him about buying milk in bags [the cheaper option in Israel - ed.] and not in cartons. Yet another states that she threw a vase of dying flowers at him, yelling that "something like this would never happen at [Paris's] Elysee Palace." 
Naftali also alleged that his work hours were long, often keeping him from his family. On one occasion he attempted to bring his children with him to work for Independence Day (Yom Ha'azmaut), but that Sara Netanyahu threw them out of the household. 
The Prime Minister's Office has responded harshly to the allegations. 
"This is a vicious gossip and biased, in violation of the privacy of the Prime Minister and his wife, in order to discredit them deliberately to gain money illegally from the prime minister." 
The PMO also noted that the employee was a temporary worker, only being under contract from February 2011 to November 2012.  
The former employee released a statement when the story first broke noting that he never intended to threaten the Prime Minister or his family, but merely to receive the money allegedly owed him.