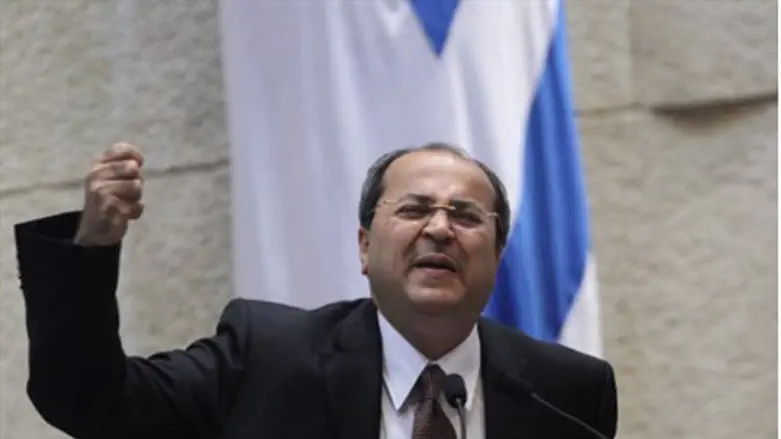 MK Ahmed Tibi
Flash 90
The Knesset Ethics Committee rejected an official complaint filed by Culture Minister Limor Livnat (Likud) against MK Ahmed Tibi (United Arab List) on Wednesday, after Tibi raged at the minister in a dramatic outburst whilst presiding over a meeting on the Knesset plenum.
The drama erupted during a hearing on government and cinema. Tibi presided over the hearing, and was accused of interrupting continuously and dictating the terms of the hearing after a dispute arose between Livnat and MK Mohammed Barakeh (Hadash). 
Tibi accused Livnat of racism and hatred during the outburst.
"I sit here, I speak now as an Arab Member of Knesset. It can't be that every time an Arab MK (speaks), you say Syria. There's a limit!," Tibi fired. "I use my position, and you use your position and incite against him. You hate him."
"I'm using my authority as chairman to put an end to this undemocratic evil," he continued. "You can say what you want, it's not legitimate."
After enduring the tirade, Livnat responded in kind. 
"When MK Barakah says to me that the political right and culture don't go together, I'll tell him what I want, and I'll remind him what culture is, and what Syria is," she stated. "When he talks to me about nationalism I'll remind him of Syria, and you won't silence me." 
Arab MKs often claim that Israel uses a policy of apartheid towards Arabs, ignoring the fact that Israeli Arabs have the right to vote, serve in the Knesset, study in Israeli universities, share the same hospitals and public facilities and work alongside Israeli Jews.
Tova Dvorin and Yoni Kempinski also contributed to this report.