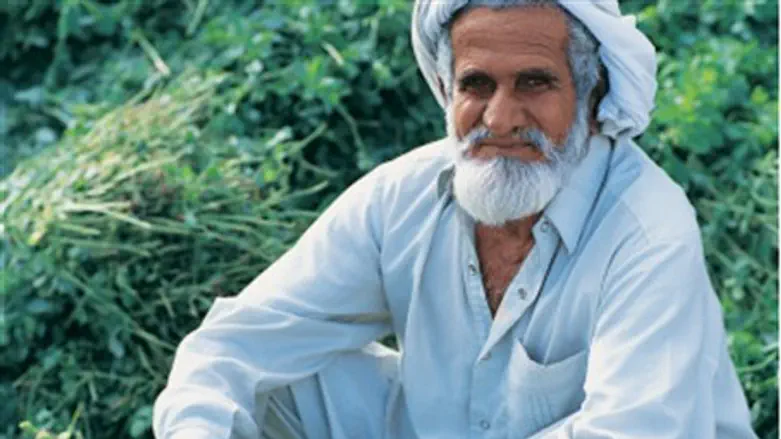 Picking plants? (illustration)
Thinkstock
The brother of an Arab terrorist, who was shot dead on Wednesday as he led two accomplices in sabotaging Israel's security fence near Hevron in Judea, claims the 19-year-old was merely "picking gundelia" - an endangered species of plant.
Abed Shawamrah, the 23-year-old brother of Yousef Nayif Yousef Shawamrah, claimed to AFP that the terrorist was not breaching the security fence when he was shot, but rather picking gundelia, a thistle-type plant used in cooking.
"Every year, people from the village go out to pick gundelia. Today Yussef went with his friends to pick some in an area close to the wall and the army
shot at them. They hit him and arrested two of his friends," claimed Abed.
IDF soldiers reported that the three were sabotaging the fence. After the three ignored soldiers' warnings to leave, as well as warning shots in the air, soldiers "fired towards the lower extremities of the main instigator," namely Yousef.
The terrorist was evacuated to the Soroka Hospital in Be'er Sheva in critical condition, but died of his wounds shortly thereafter.
An Arab resident of northern Israel was fined 6,000 shekels (roughly $1,700) last June for picking gundelias, given that the plant was declared a protected species in 2005. The man was further ordered to stay several hundred meters away from the plants for two years on penalty of jail time.
Picking plants, shepherding sheep, grabbing gravel
The claim of harmless activities following the shooting has a well-set precedent.
IDF forces shot in the air to warn off a group of terror suspects approaching the Israeli border from the Lebanese side just this Saturday, sending the men fleeing. The incident came a day after an explosive was detonated on the border right by an IDF patrol, causing no injuries but hospital visits for three soldiers to be examined for shock.
However, a local Arab resident claimed that the terror suspects who approached the fence were "shepherds" who neared the border "by mistake."
In another incident in February, IDF soldiers fatally shot a terrorist on the Gaza border after he approached the security fence with several cohorts "and began tampering with (the) fence."
Gaza health ministry spokesman Ashraf al-Qudra made the claim that the 26-year-old man was shot by "Israeli occupation forces while he was collecting gravel."